The 2021 Volkswagen Arteon is a near-luxury, mid-size hatchback that finds itself in an increasingly empty playing field of direct rivals as more and more car buyers continue to opt for SUVs. With its aerodynamic shape and hatchback trunk design, the Arteon competes against luxury-badged models, like the Acura TLX and Audi A7, as well as more mainstream vehicles, such as the Kia Stinger and Nissan Maxima.
Where does the Arteon fit in? During our test drive, we discovered it doesn't occupy one particular niche. A roomy cabin, available all-wheel drive and spacious cargo area help to keep this VW on pace with many popular SUVs. What holds the Arteon back is a sticker price that starts above $38,000, and then streaks perilously close to $50,000 in the highest trims — well, that along with the fact that everyone seems to want a pickup truck or SUV.
To see whether the Arteon justifies that financial outlay, be sure to read our complete review by Jennifer Geiger via the link above. For a quick recap of the Arteon's pros and cons, keep scrolling.
1. Family-Friendly Cabin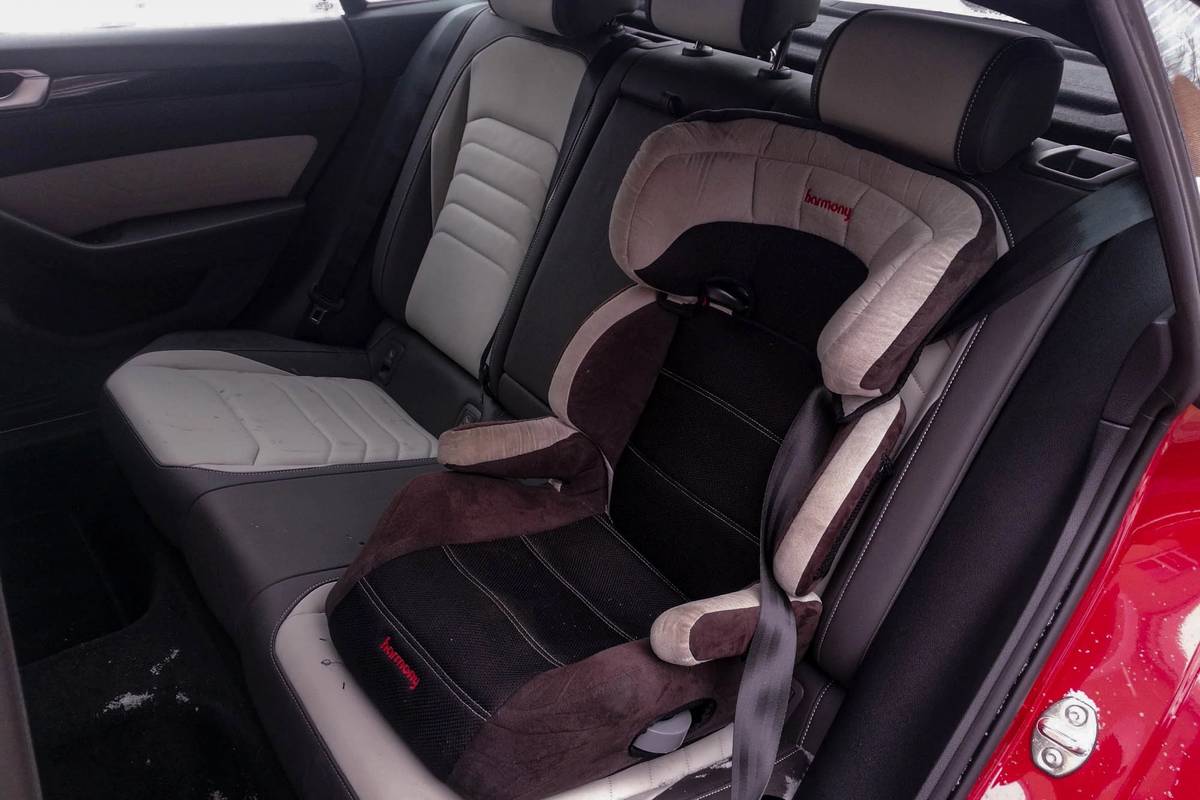 SUVs are roomy. SUVs have lots of cargo space. SUVs come with a free basket of puppies with every purchase. We're kidding about that last one, but you get the point that many people really like SUVs. The Arteon isn't going to put SUVs out of a job, though the five-occupant hatchback's cabin proves how a well-engineered pseudo-sedan can be equally accommodating. During our test drive, there was plenty of space for five, and backseat headroom and legroom was ample for two adults or (as we discovered) three kids. Exposed rear Latch anchors made installing child-safety seats a simple and painless task, too.
2. Plenty of Cargo Space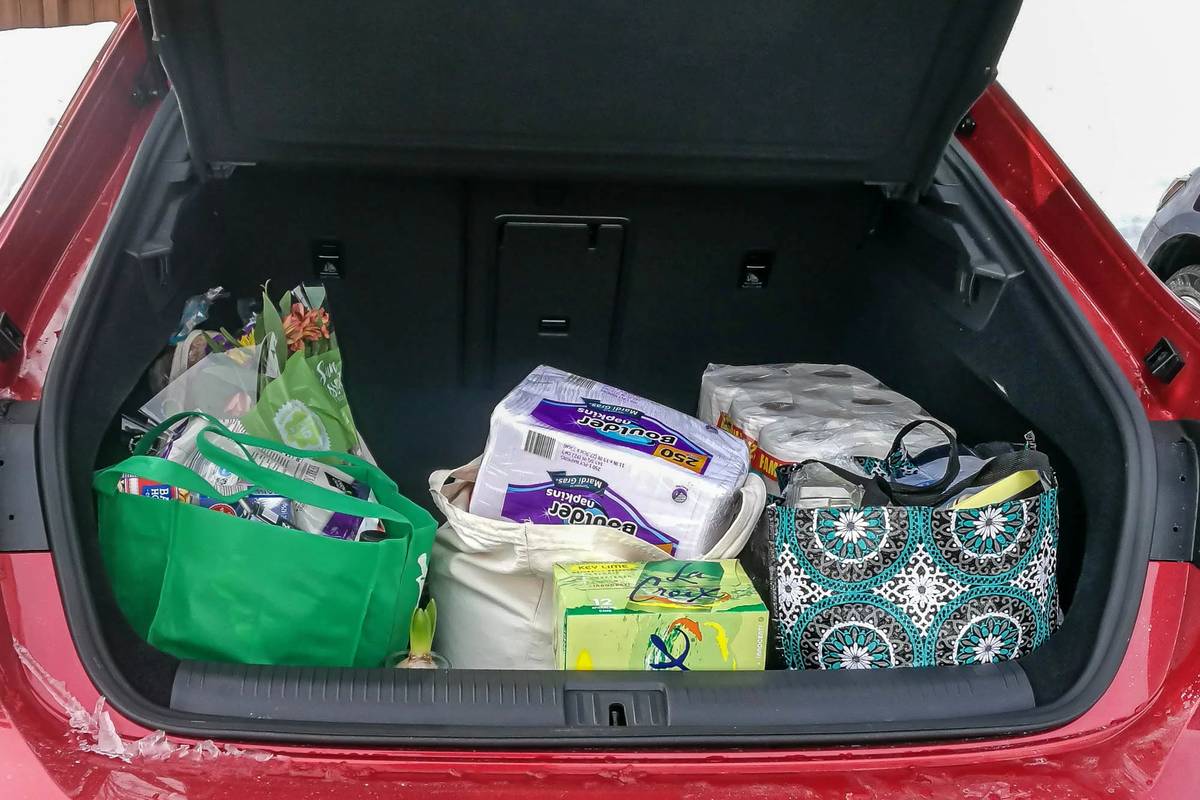 The roomy trunk has 27.2 cubic feet of space, and when the second row is folded, there's 56.2 cubic feet of cargo space. That's exceptional for a car with the Arteon's sedanlike shape and rivals many SUVs. About the only thing the Arteon doesn't offer is the higher seating position afforded by a typical SUV. In terms of cabin room and trunk acreage, however, this VW excels.
3. Refined All-Weather Performance
Lots of vehicles offer all-wheel drive, but the Volkswagen Arteon is about more than ticking another box on an option sheet. Powering this VW is a 268-horsepower, turbocharged 2.0-liter four-cylinder paired with an eight-speed automatic transmission. Available in front- or all-wheel drive, the Arteon feels agile, poised and controlled in all types of driving conditions. It's reasonable on gas, too: An AWD Arteon returns an EPA-estimated 20/31/24 mpg city/highway/combined.
4. Strong on Safety
Standard safety features on the 2021 Arteon include forward collision warning with automatic emergency braking, blind spot warning and rear cross-traffic alert. Additional available safety features include automatic high-beam headlights, lane keep assist and adaptive cruise control with stop-and-go capability, to name a few.
One relatively simple feature we appreciated was the Arteon's rearview camera: It hides behind a VW logo and only peeks out when the car is in Reverse. Sounds simple, right? Well, the disappearing act keeps the lens clear of rain, snow, mud and whatever else might muck up the view.
5. Upscale Interior, User-Friendly Tech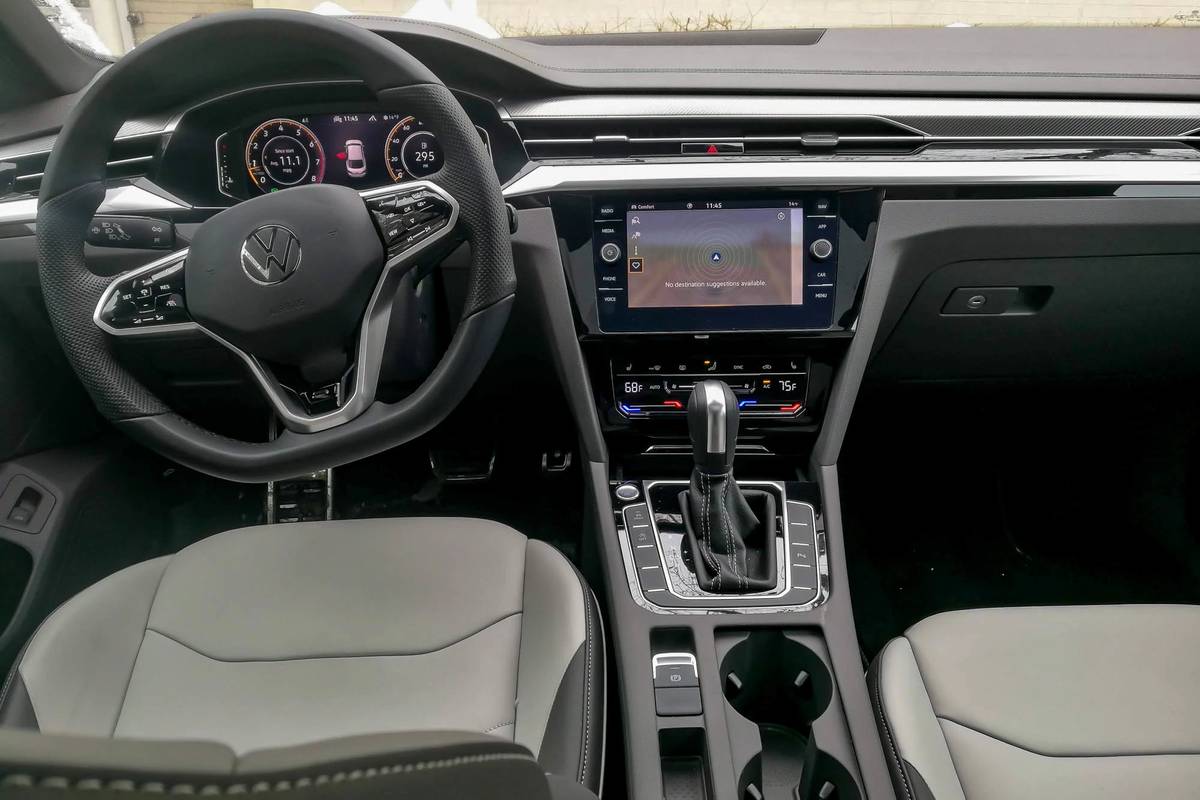 The Arteon's cabin materials are high-quality, and the interior features some fun with the ambient lighting system and its 30 available colors. In tech, VW's 8-inch infotainment system is relatively easy to use, and wireless Apple CarPlay and Android Auto are standard. Some issues annoy, however, including a tuning knob that works with AM/FM radio but not satellite. We'll get to more on these cabin quirks in a moment.
1. A Lot of Money for a Volkswagen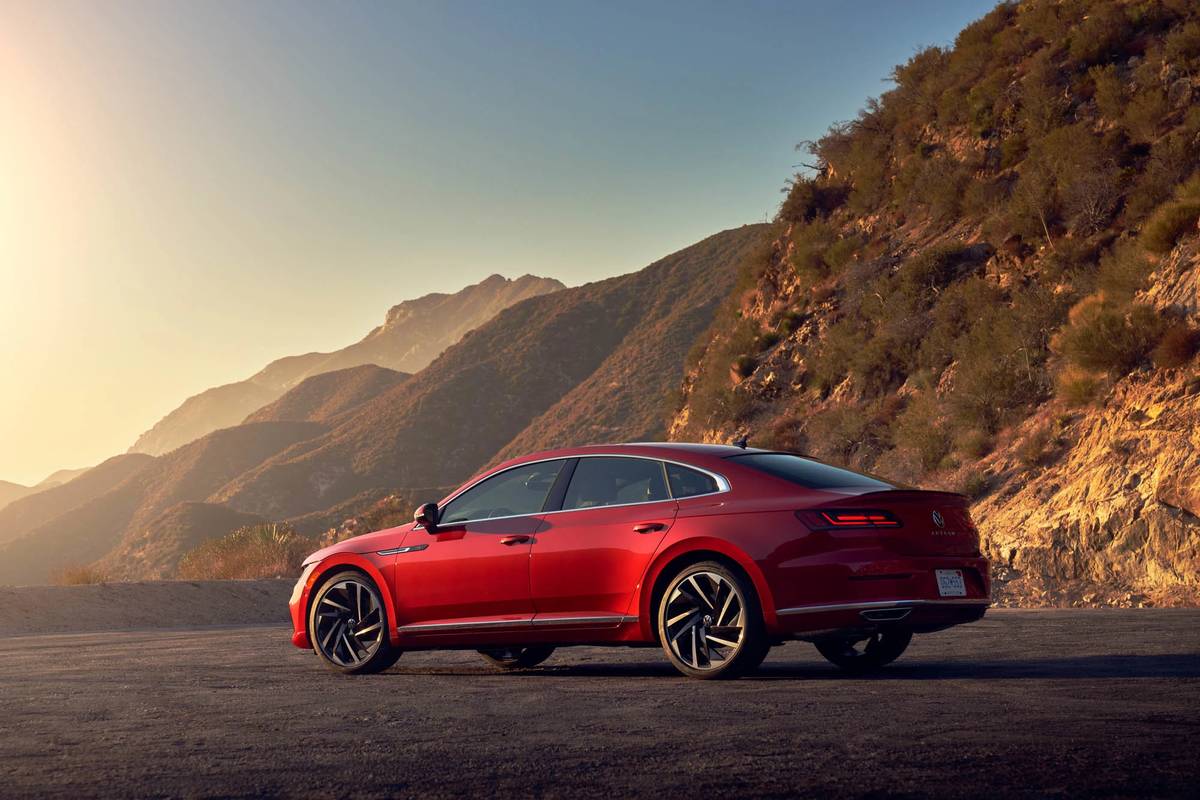 With a starting price of $38,190 (including destination), the Arteon is a big step up from the brand's Jetta and Passat sedans. When fully optioned, this VW hatchback nudges close to $50,000. Sure, a lot of lesser cars and SUVs cost similar amounts of money, but some car shoppers will balk at handing over this type of cash for a VW.
2. Poor Rear Visibility
The Arteon stands out in a crowd thanks to its sleek shape. Unfortunately, any admiring glances exhibited toward the sides and rear of this VW will go unnoticed because of the car's poor rearward visibility. That peekaboo backup camera we praised earlier is definitely needed when maneuvering backwards.
3. Touchy Controls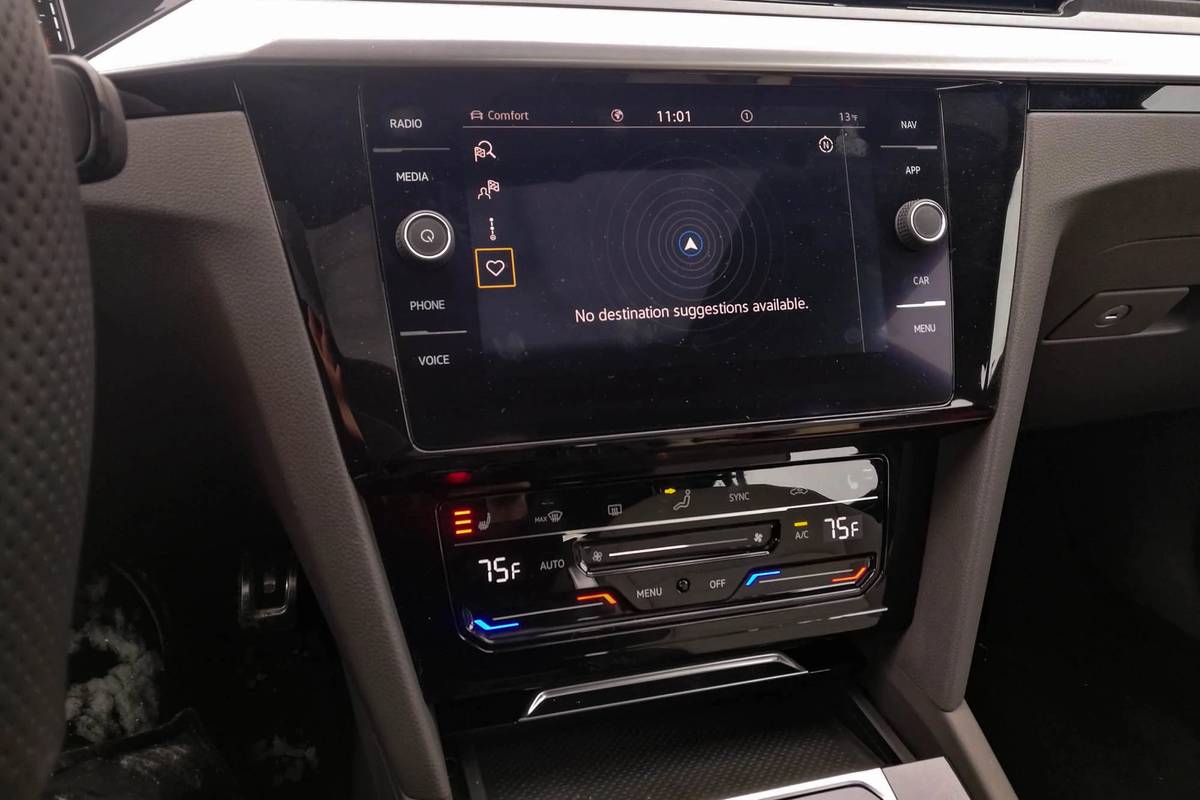 We enjoy most of what the Arteon's touchscreen system has to offer, though a few gripes were focused on touch-sensitive panels on the steering wheel and climate control panel; using a finger-activated slide function to adjust something like fan speed is awkward, for instance. We think a physical button or some other tactile control would be much better.