The new VW Golf R is the standout 300hp, four-wheel-drive hot hatch. It's classy, comfortable, practical and refined like the old car, but more rewarding to drive when you really start hustling it, thanks entirely to its more sophisticated drivetrain that isn't so stubbornly front-biased. At a lick under £40,000, however, it's gone and made itself really rather expensive. When the Mk7 version was new only seven years ago, it snuck in under 30-grand.
Even so, the Mk8 Golf R is more fun to drive than its imitators from BMW and Mercedes-AMG (the M135i xDrive and A35 respectively) and better in every regard than the strangely unsatisfying Audi S3 with which it shares so much. And so the VW manages to be both the best hot hatch of its type and pricey enough to make you wonder what else you might get for the money. The most basic Porsche 718 Cayman isn't too much pricier at £45,230. If two seats simply won't do, BMW's Approved Used site lists several rear-driven, 340hp M240i Coupes with delivery miles for around £32,000.
But it's another four-wheel-drive hot hatch – albeit one that's as different to the Golf R as it's possible for a car to get while still matching that description – that I keep wondering about. Because for almost exactly the same as you'll spend on a bare-bones Golf R, you could instead have a Toyota GR Yaris with every single factory option including the Circuit Pack and metallic or pearlescent paint, and every single aftermarket upgrade currently offered by Litchfield.
A 300hp rally homologation special on manually adjustable coil overs with tweaked wheel geometry and a pair of JDM-style sports seats (which are mounted on the deck), or a basic Golf R? It's three doors, a manual 'box and 1,280kg versus five doors, DSG and 1,551kg. To be blunter, it's one of the great affordable performance cars of the day up against a PCP favourite.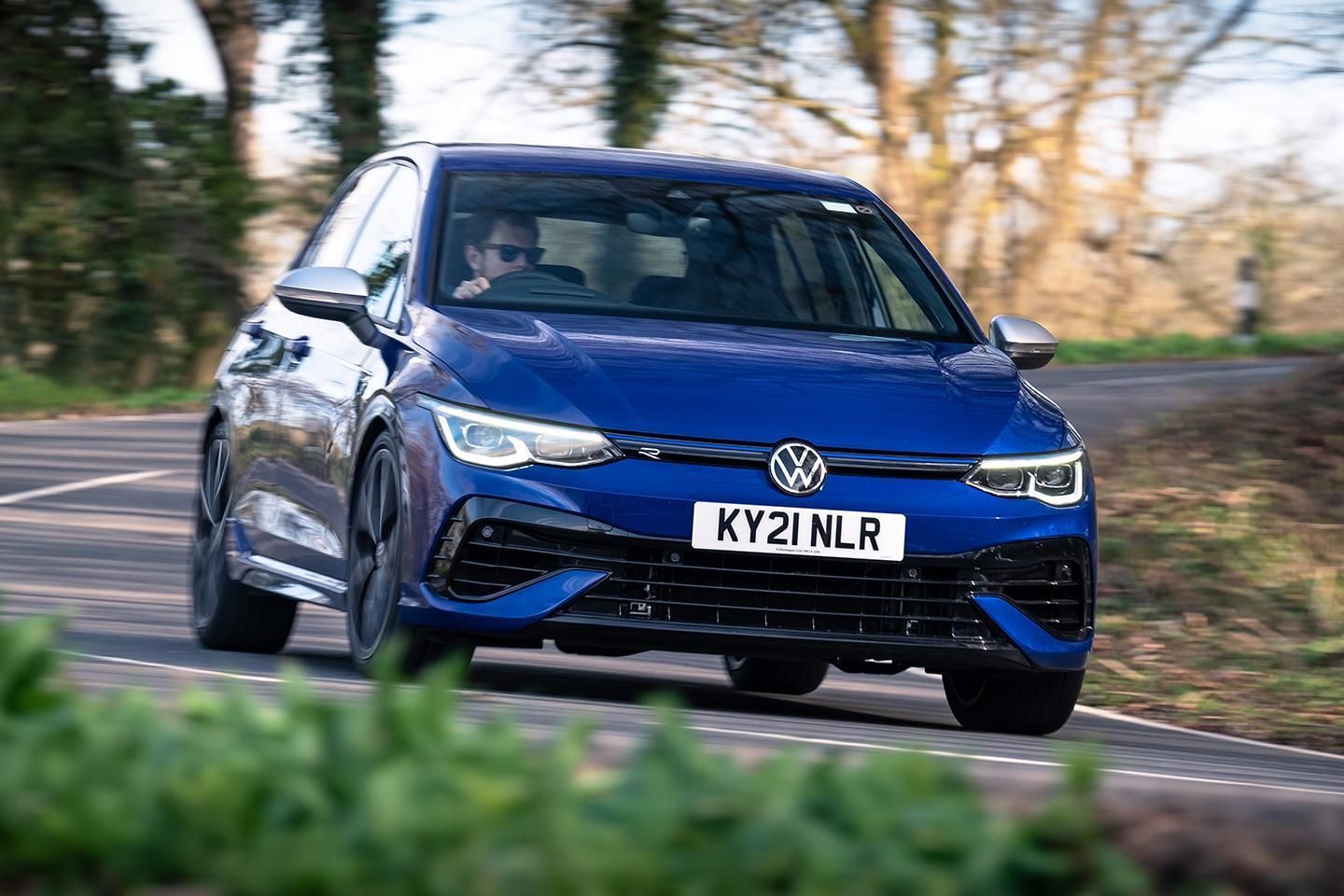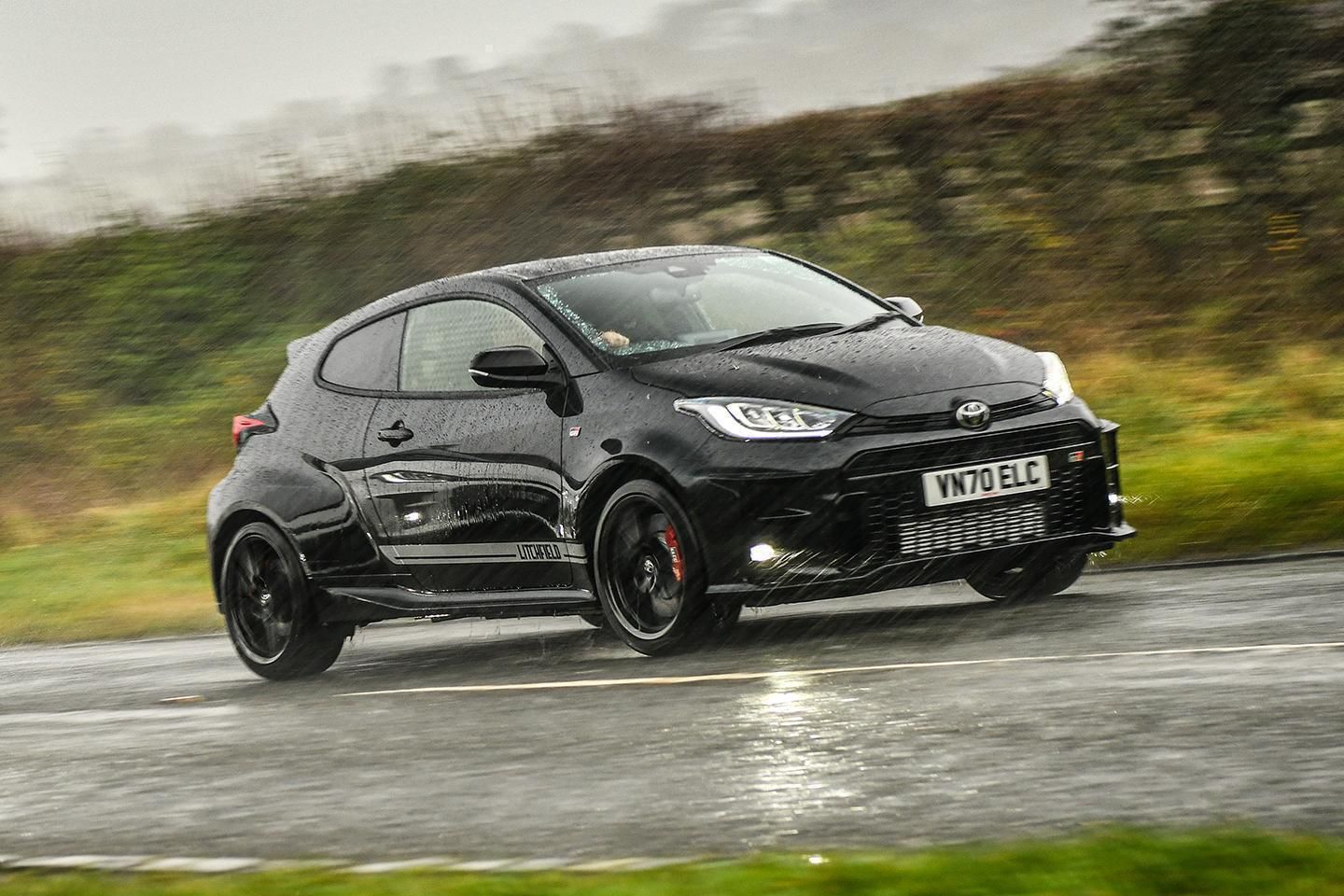 Talking of which, nobody buys a Golf R with cash. I understand that comparing the price of a standard car with an uprated one is an imprecise business at best. But there are ways and means, and if you're in a position to lease a Golf R or buy one on finance, you could probably get your hands on a GR Yaris and splash out on a handful of upgrades as an alternative.
Before we go any further – yes, there are always issues with modifying cars within their warranty period, particularly when they have finance against them. My own PCP'd car is stock for that reason. But you only need to watch the steady stream of showroom fresh metal that flows through tuning outfits like Litchfield to know that for a significant number of people, such concerns are no concern at all. This one's for them.
At £39,295, the Golf R stays the right stays of 40-grand by a whisker. The only must-have option is DCC, or adaptive dampers, which are worth every one of the £785 you'll pay for them. All of a sudden, though, the number at the bottom of the page will begin with a four, which somehow makes the Golf R seems much more expensive than it would otherwise. You could spend an additional £2,000 on the Performance Pack, fitted here, but you'll have to decide for yourself if 19-inch wheels, a drift mode and a setting specifically for the Nürburgring are worth the outlay. You'll get a higher 168mph top speed and a bigger rear spoiler, too.
For precisely £39,000 you could have a fully loaded GR Yaris, all of Litchfield's upgrades for it and lunch on the way home. New engine management software boosts power to more or less 300hp, while the Nitron coilovers lower the car by 40mm – making it look altogether more purposeful, even when stationary. We've already tested Litchfield's GR Yaris in that tune, but since then the Gloucestershire firm has developed new seat rails and picked out aftermarket Corbeau chairs, which look like they might have been lifted from a Nineties Evo or Integra Type R with their prominent wings.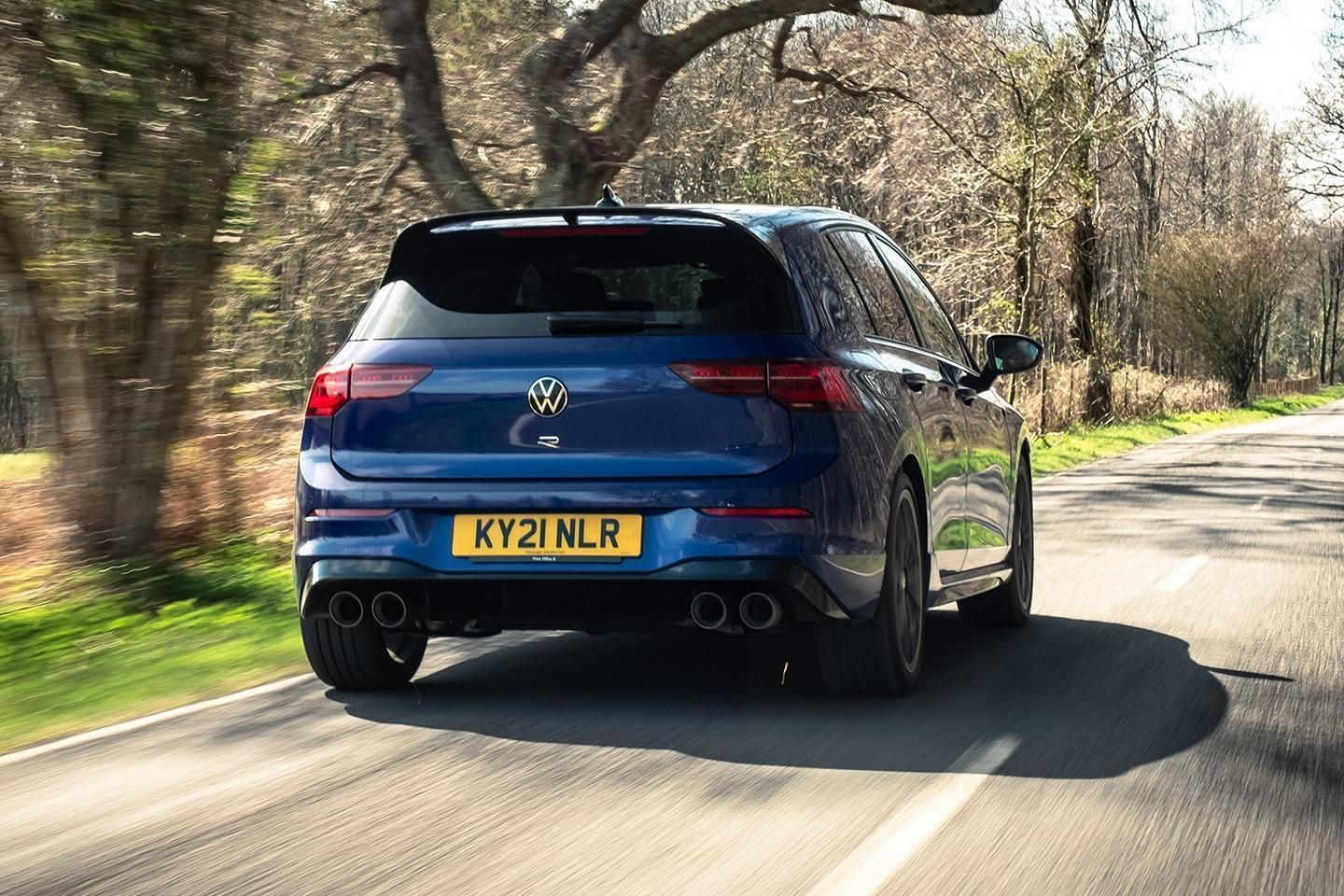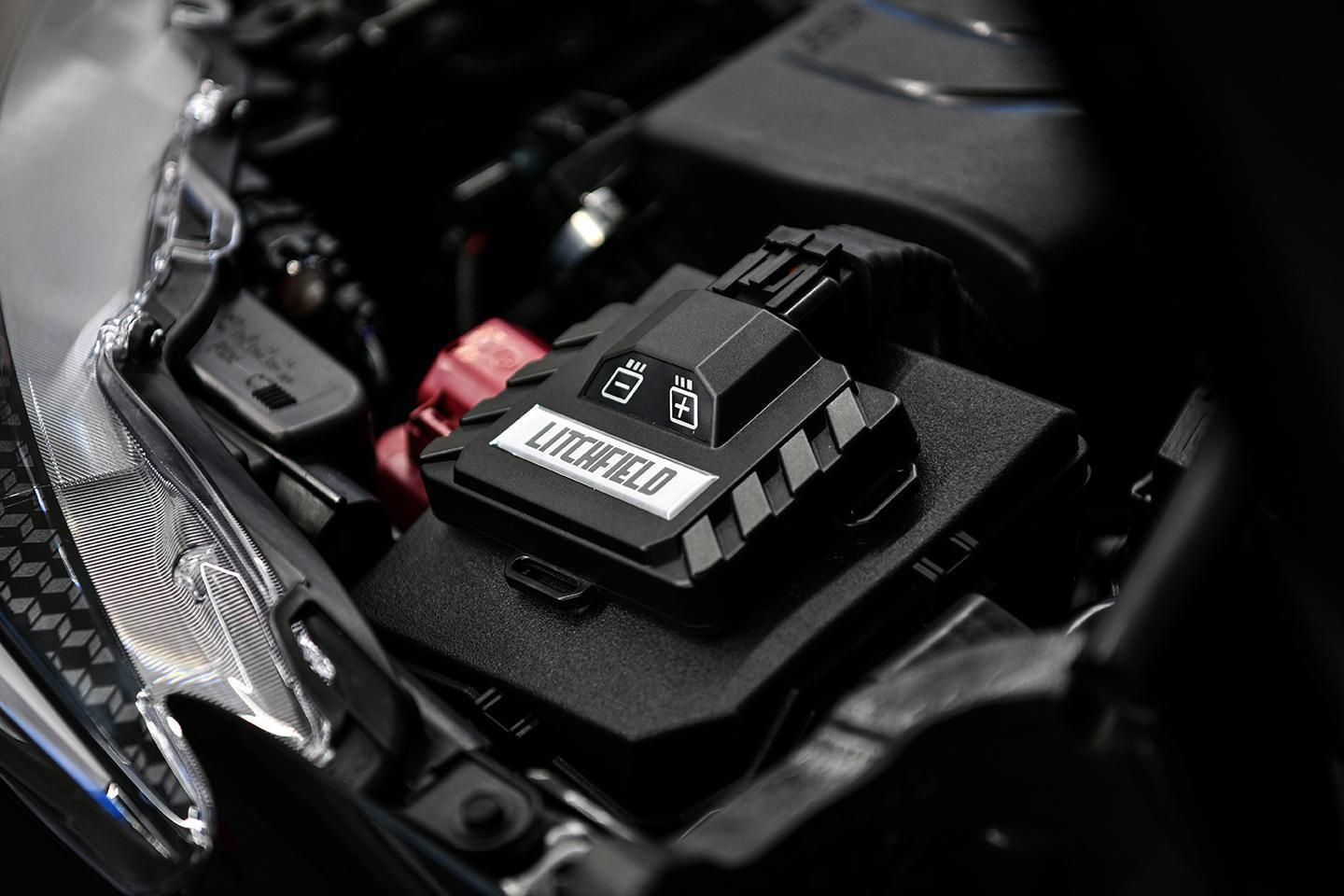 Again, these sit 40mm lower than the standard seats, which have been criticised by many for being mounted too high. I thought they were tolerable, but a lower-set seat is welcome nonetheless – as is the additional headroom you now find, which was tight for very tall drivers and tighter still when wearing a helmet.
Altogether, you sit 80mm closer to the road in the Litchfield GR Yaris than you do a stock one. That fundamentally changes the way you engage with the car, but we'll come to that shortly. The engine remaps and uprated air filter cost £645, the coilovers and geo £2,904 and the seats £1,310, all fitted and including VAT.
What a fine daily driver the Golf R would make. It's subtle enough – at least in a dark shade and without the Performance Pack – that I've spotted a few on the road recently and only realised what they were when I've clocked the stylised R badge. The cabin is spacious and pretty high-quality, it's comfortable and civilised and normal driving and it's completely undemanding when you simply can't be bothered.
But when you can… Apart from being seriously quick in a straight line, it claws such grip out of the road surface that you think it'll never let go. Cleverly, it gives you such a clear impression of how hard its four tyres will bite that you feel confident using every ounce of that grip. It all means the Golf R is spectacularly quick along a B-road. What's more, the adaptive dampers give it such spread between squidgy ride comfort one moment and locked-down stability the next, although the 15 damper settings they offer are several too many. It isn't difficult to find one that works for the road you're on at any given moment, but you'll always wonder if there's a setting that might work better.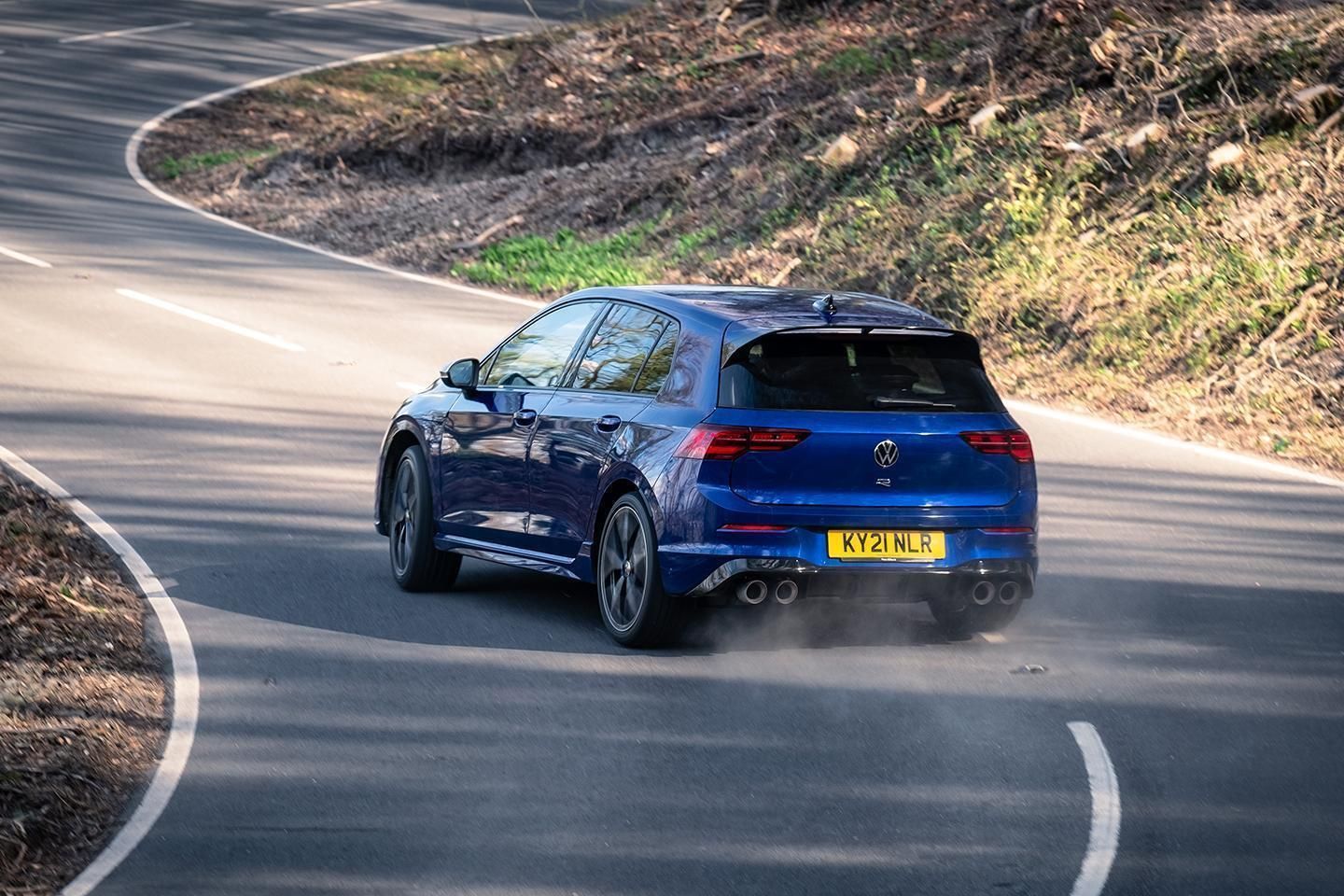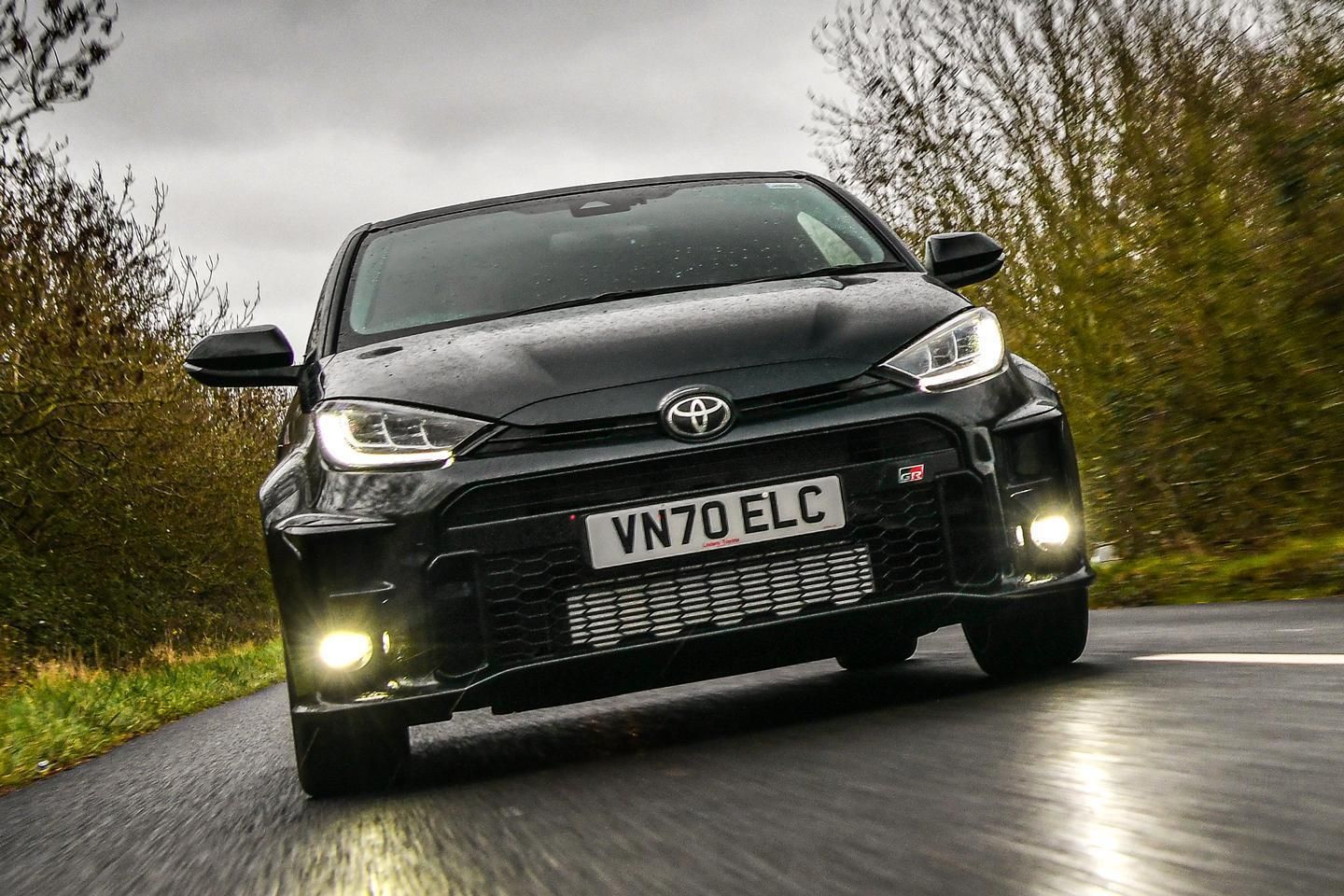 The 2.0-litre turbo engine is crisp and sharp, ripping around to the limiter with real energy. Meanwhile, the DSG gearbox is pretty much flawless, except that for many people it'll never be as involved as a manual (which you can't have). And the four-wheel-drive system? There's now a torque vectoring differential in the rear axle, which makes the car feel far more neutral on the way out of bends. Rather than scrabble away at the front end, the Golf R now drives itself away from bends with real positivity from its outside rear corner.
The drift mode makes it behave more like a rear-driven car than the drift mode in the last Ford Focus RS, which kicked the rear out of line and sent the car into a huge, arcing four-wheel powerslide. But you do have to work exceptionally hard on a dry road to persuade drift mode to make the Golf R actually drift. Get back on the power very hard and very early and the rear end will swing around. Be tentative or late on the throttle and nothing much will happen at all.
That newfound alacrity away from an apex, whether in drift mode or not, is matched by more adjustability on the way into one. The result is a far more rewarding driving experience. You might even kid yourself that over the Mk7 Golf R, the Mk8 is a quantum leap.
But Litchfield's GR Yaris lends a little perspective. Drive it for half a mile along a decent stretch of B-road and you realise in vivid technicolour what the difference really is between a focused, single-minded hot hatch and a more broadly defined one like the VW. It makes you realise, too, that the latest Golf R is only a bit more involving than the last – that the gulf between it and a genuinely uncompromising driving device remains vast.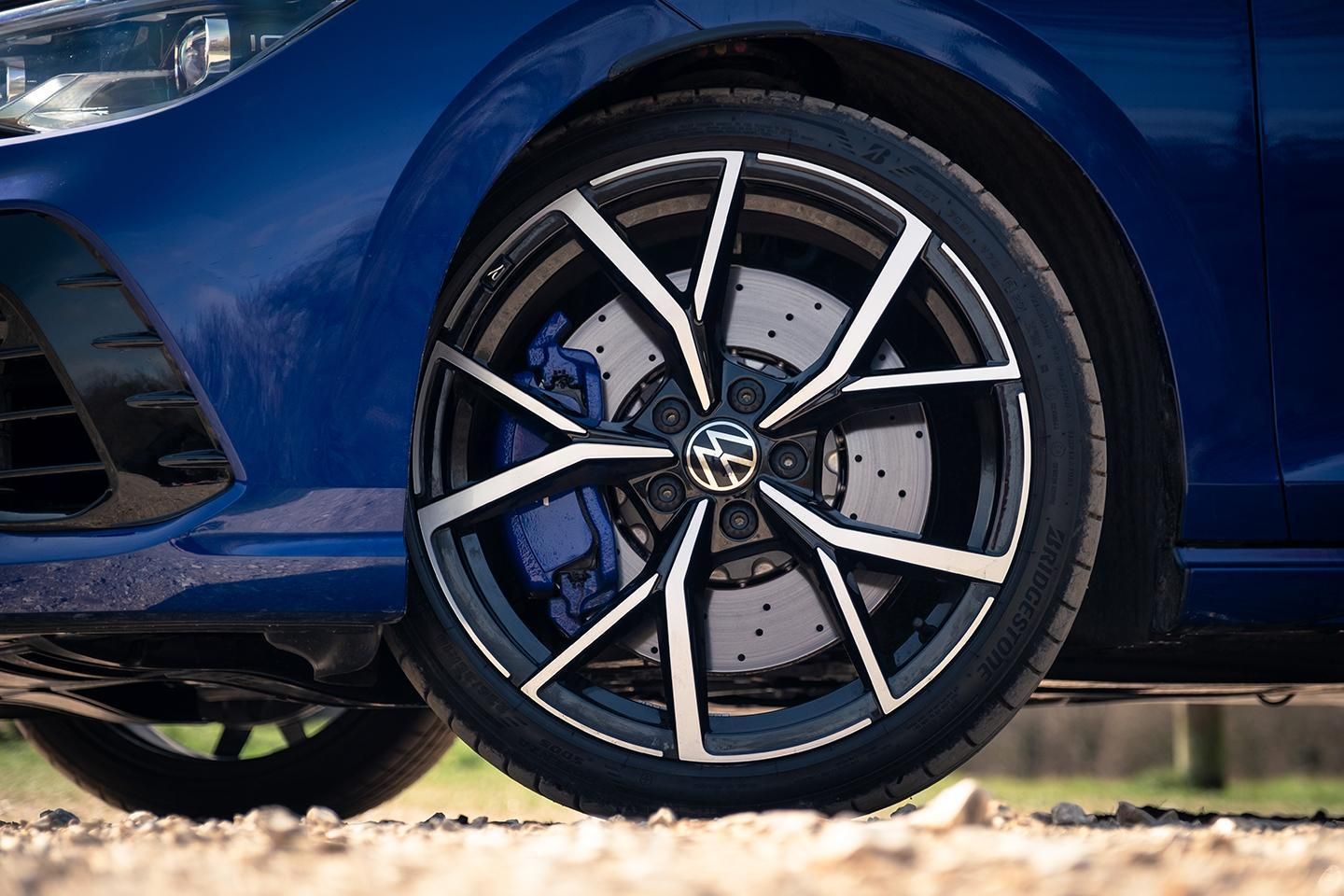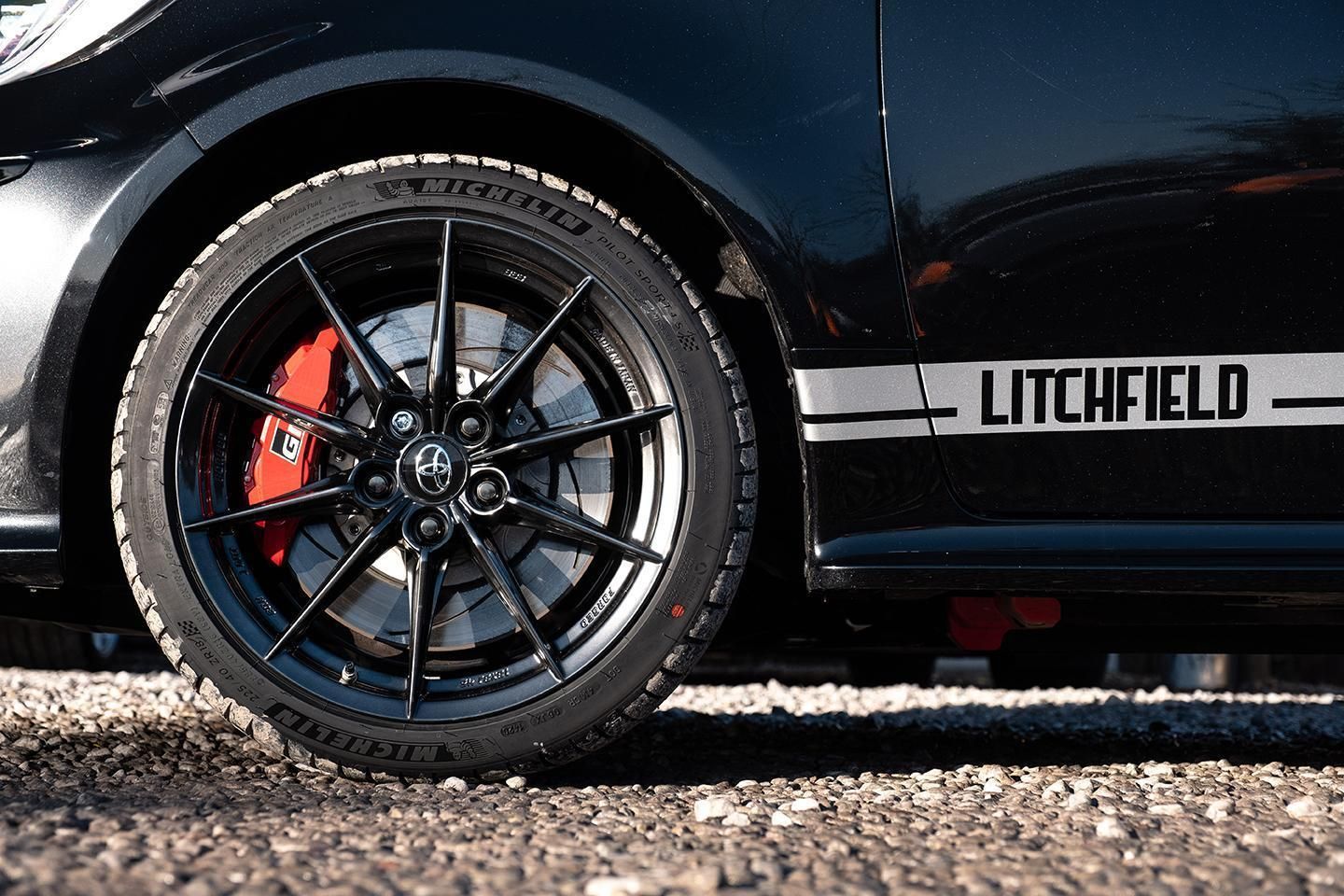 You sit so low. That doesn't just change the view out over the bonnet; it completely alters the way you interact with the car as a whole. The steering wheel presents itself to you more readily, the manual gear lever seems so much closer to hand and the rearview mirror no longer impedes your forward vision. Given the suspension drop as well, you feel as though you're skating just above the surface of the road. Your inbuilt gyroscope now shares a very small pocket of space with the car's centre of gravity.
So you feel everything the car does far more keenly. All of a sudden, you're so in tune with it. That's just as well, because, with 300hp and trick suspension, plus the standard car's superb Michelin Pilot Sport 4S tyres, two differentials, lightweight construction and four-wheel drive, this thing is astonishingly fast along a road. The Golf R is rapid, but it's made to look a lumbering old turkey by this racy little swift.
Grip and traction are out of this world. Body control is supreme, but so is the chassis' composure over bumps and undulations. The dinky three-pot turbo motor pulls astonishingly hard for its size, like an aggressive little scrum-half getting stuck in with the props and hookers. The steering feels more incisive now, the car jinking this way and that as your wrists flick at the wheel.
Those seats – comfortable in normal driving – hold you firmly in position as one corner after the next you pick apart a road. In terms of outright pace point-to-point, I think you'd need a very ably driven Porsche 911 Carrera S just to keep this little Yaris honest. It's fearsomely capable in that sense. If I have a reservation, it's that it belongs to the Nissan GT-R and Porsche 911 Turbo S school of thought, not concerning itself with how much fun you might be having at the wheel, but trying to get you along the road as rapidly as it possibly can.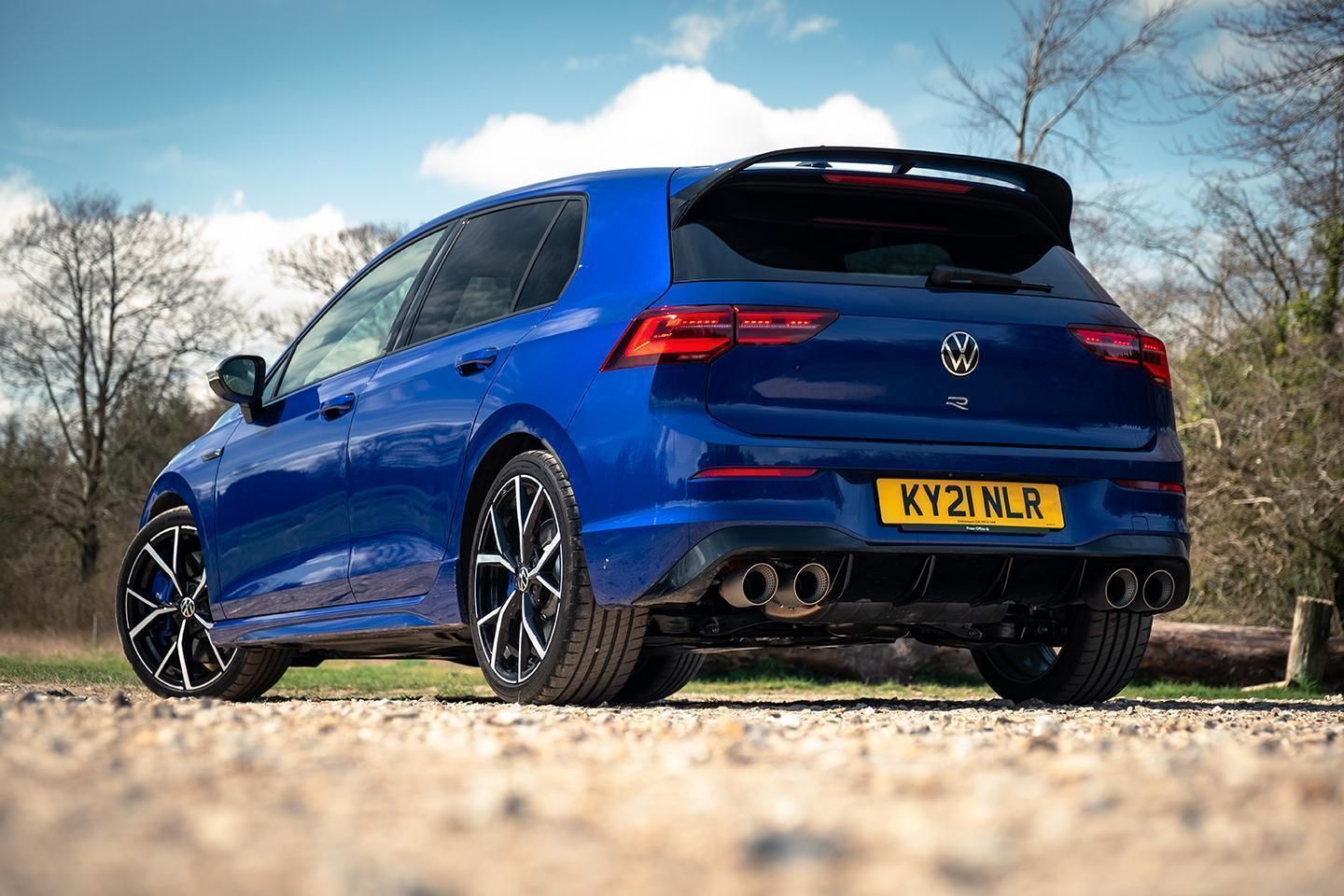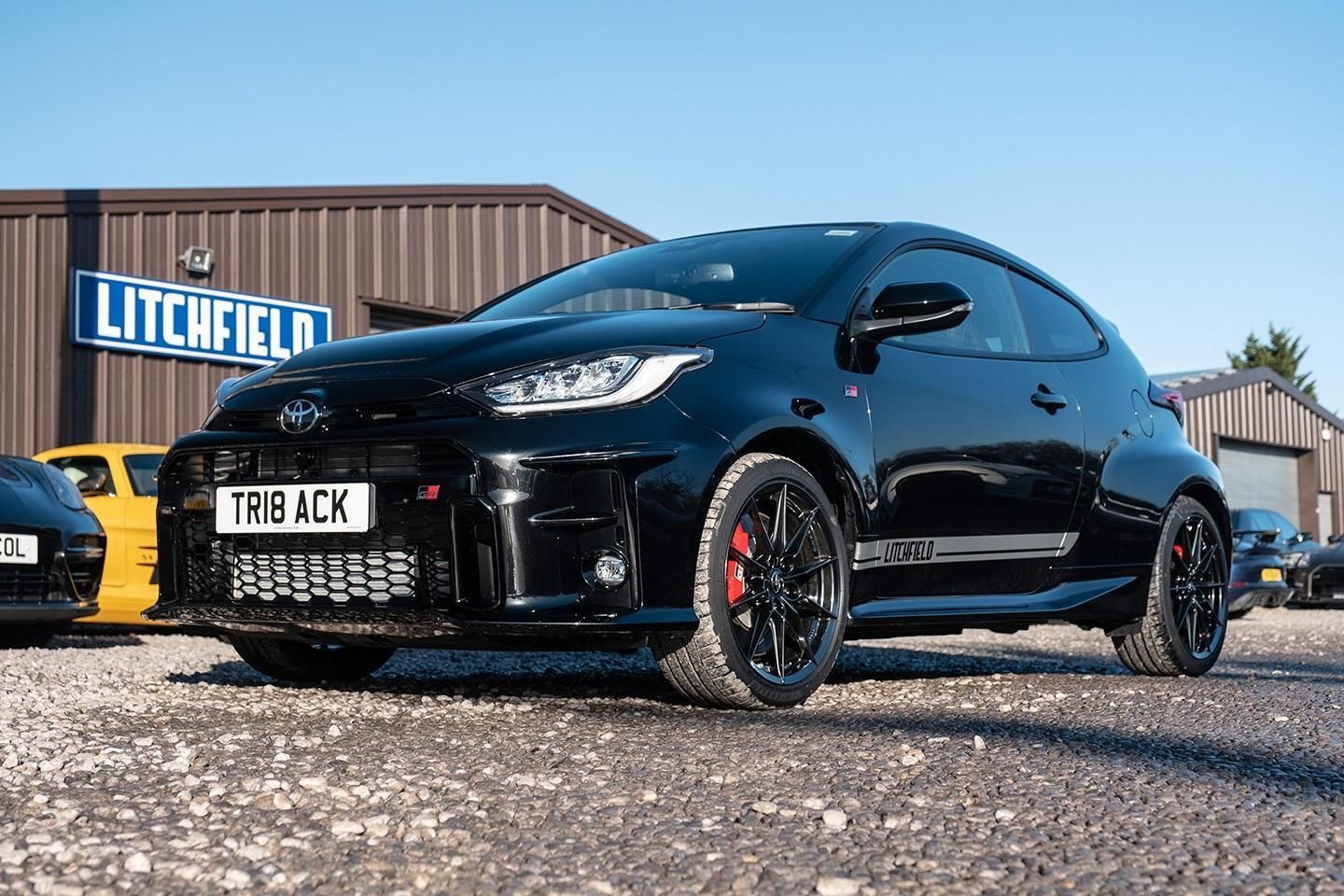 Even in the rear-biased Sport mode, the four-wheel-drive system will never awaken the rear of the car, at least not in the dry (unless you give the handbrake a good tug, which you can because it decouples the rear axle at the same time, but which you never would because nobody actually drives like that on the road). But Litchfield's GR Yaris isn't trying to be a fun-at-low-speed sort of car, which is fine as long as you know what you're signing up for.
Inevitably, the low-speed ride is fairly tense, although it's scarcely any busier than a factory GR with the Circuit Pack. That ride does settle with speed, coming good when the road begins to crest and compress and you up to your levels of commitment. This car is more thrilling to drive than the Golf R by an order of magnitude. There is no contest.
Yes, the VW would be altogether easier to live with, but the GR Yaris has rear seats, a boot and your phone will connect to it. Besides, isn't life too short to pick the relaxing hot hatch over the exhilarating one?
---
SPECIFICATION | VW GOLF R (MK8)
Engine: 1,984cc, four-cyl turbo
Transmission: 7-speed DSG auto, four-wheel drive
Power (hp): 320@5,200-6,600rpm
Torque (lb ft): 310@2,100-5,350rpm
0-62mph: 4.7 seconds
Top speed: 155mph (or 168mph with R-Performance Package)
Weight: 1551kg DIN
MPG: 36.2 (WLTP)
CO2: 177g/km (WLTP)
Price: from £39,295 (£40,800 with DCC, or £41,270 with Performance Pack)
SPECIFICATION | LITCHFIELD TOYOTA GR YARIS
Engine: 1,618cc, inline-three, turbocharged
Transmission: six-speed manual, all-wheel drive
Power (hp): 302@6,895rpm
Torque (lb ft): 284@4,765rpm
0-62mph: 5.3 seconds (estimated)
Top speed: 143mph (electronically limited)
Kerbweight: 1,280-1,310kg (minimum and maximum)
MPG: n/a
CO2: n/a
Price: £39,000 (with all options)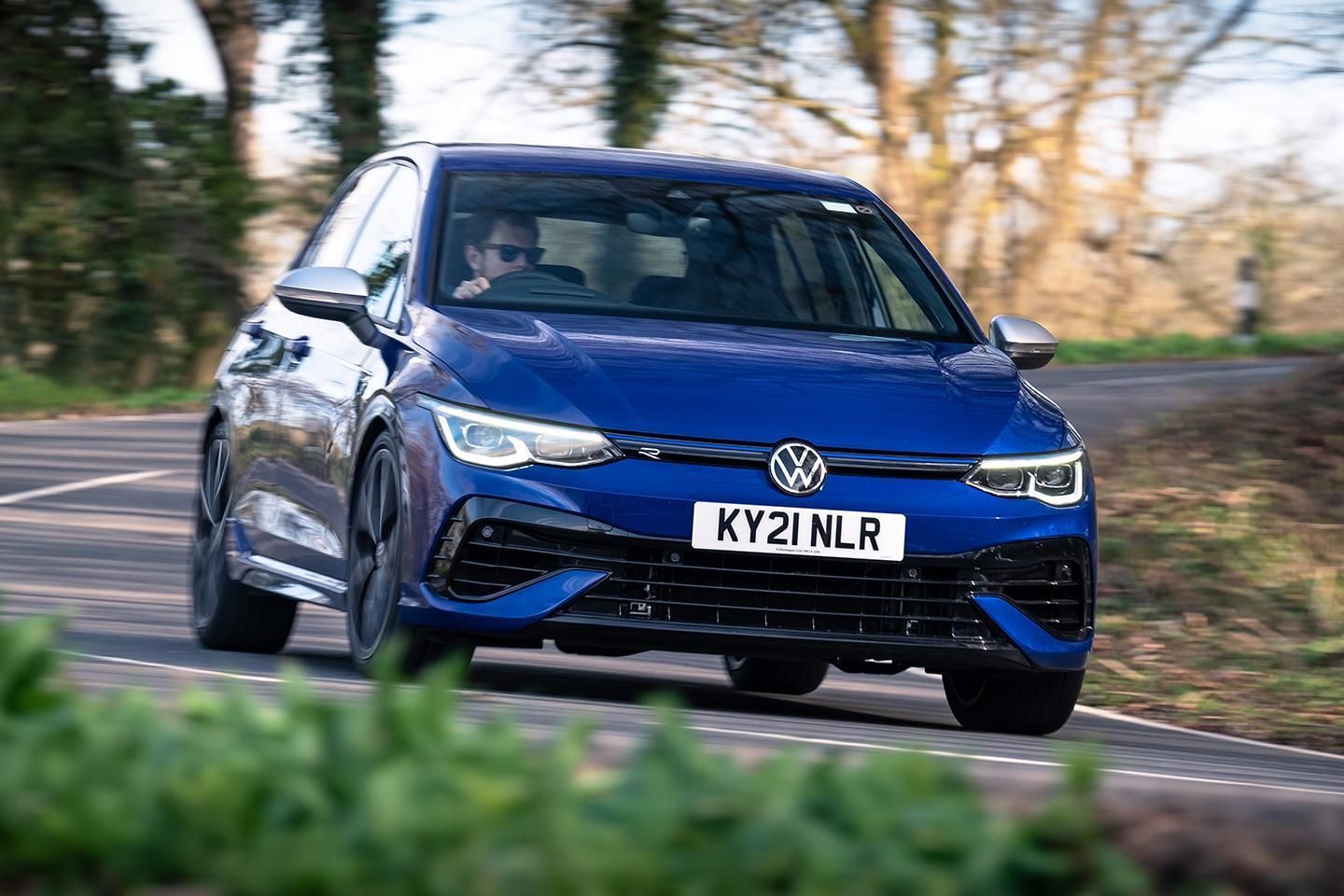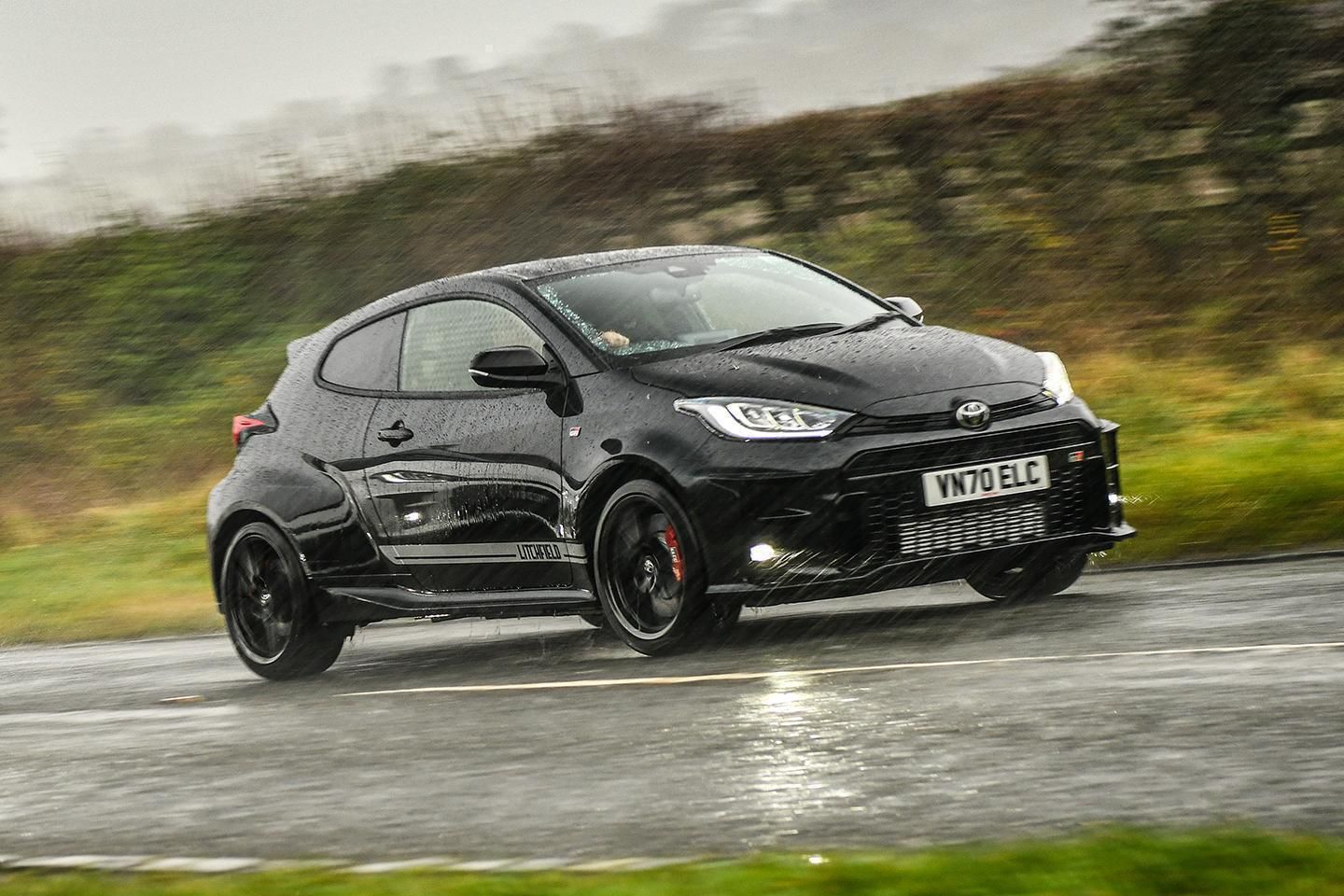 " alt="" />