The verdict: The 2021 Volkswagen ID.4 is a comfortable, versatile new EV that's held back in daily use more by its frustrating controls than by its average range.
Versus the competition: Simply being a small SUV gives the ID.4 huge appeal over the predominantly smaller battery-electric cars already on the market. Its ride quality stands out among firm and bouncy competitors, but the 2021 Ford Mustang Mach-E has it beat for controls and optional range.
We're thrilled to be evaluating another relatively affordable battery-electric in small-SUV form because this is the type of vehicle Americans prefer; up till now, pure EVs have mostly been smaller cars and pricier SUVs from luxury brands. There will be many comparisons in this review between the 2021 Volkswagen ID.4 and the 2021 Ford Mustang Mach-E, which we consider its primary competitor. The Tesla Model Y unquestionably competes on its merits, but we've unfortunately yet to test it. For what it's worth, because Teslas aren't sold and serviced nationwide, the Model Y isn't as direct a competitor to the ID.4 as is the Mach-E, at least not for all shoppers.
We tested a 1st Edition trim level of the ID.4. While this trim is essentially sold out, you might find one available as a dealer demo or the like. The top trim level currently available for order is the Pro S, which is different cosmetically than the 1st Edition but otherwise pretty comparable. The base trim is called the Pro. Only rear-wheel drive is available for now, and list prices start at $41,190 and top out at $45,690 (including destination charges but excluding incentives). All-wheel drive will become available in the fourth quarter of 2021, adding $3,680 to the sticker price. The EPA has estimated the RWD ID.4's range at 260 miles for the Pro and 250 miles for the Pro S and 1st Edition. As of this writing, it hadn't yet provided figures for AWD versions, which Volkswagen says will use the same 82-kilowatt-hour battery pack as the RWD ID.4.
The ID.4 is eligible for a federal tax credit of up to $7,500 for those who buy one, and the amount will also be incorporated into lease arrangements.
Ride and Handling
One of the ID.4's main advantages is how it drives, with an emphasis on ride quality. There's something about the weight of a battery pack that seems to flummox engineers, or at least those who design more affordable pure EVs, which don't tend to benefit from more advanced (read: expensive) suspension technology.
We've taken issue with the ride quality of everything from base Tesla sedans to the Mustang Mach-E, which we found too firm and/or bouncy, at least for the hellscape that is Midwestern urban pavement. The ID.4 also exhibits some pitching motion, but overall it's a far more comfortable experience — and a softer one. Note that this observation came in a 1st Edition with 20-inch wheels (they're optional on the Pro S), which are the lowest-profile tires available, presumably making for the firmest possible ID.4 ride. Nineteen-inch wheels are standard.
The ID.4's suspension has conventional springs and shock absorbers. Don't be fooled if you see a Suspension setting on the touchscreen that allows you to choose a Comfort or Sport driving mode. Typically, this language represents adaptive shock absorbers, but that's not the case here: According to VW, the setting changes the threshold for the electronic differential lock, XDS, which brakes the inside drive wheel as needed when cornering. (This seems like a prime candidate for a menu revision via over-the-air updates, which the ID.4 supports.)
The ID.4's ride softness translates to its handling, as well. That's not to say it's bad; the weight distribution is almost perfect, and the center of gravity is low, as we've come to expect from EVs. The tires on our car felt more up to their task than did the Mustang Mach-E's, though bear in mind we drove a rear-drive ID.4 weighing a specified 4,665 pounds — hundreds of pounds lighter than the Mach-E I reviewed (a Premium AWD with the larger of two available battery packs). Also note that original-equipment tires can vary; our ID.4 had Bridgestone Alenza Sport A/S all-seasons. The Mach-E felt sportier overall — partly because of its greater acceleration — but in a squirrely way, not a poised one.
As for standout features, don't miss the RWD ID.4's turning diameter: It's an amazing 33.6 feet, which is 4.4 feet tighter than you get from the Mach-E, a vehicle that's 5.5 inches longer. The turning circle will probably get wider once VW adds hardware to the ID.4's front wheels for AWD, but the short wheelbase definitely helps make this EV a star when it comes to maneuvering and parking in tight spaces.
Acceleration and Braking
The ID.4's acceleration is modest by electric standards; VW rated its 0-60 mph time at 7.5 seconds. This isn't exactly slow, but Ford rates the slowest version of the Mustang Mach-E at 6.1 seconds and the quickest at 3.5 seconds (the Mustang Mach-E GT Performance Edition). The ID.4 has 201 horsepower and 229 pounds-feet of torque, and with just two driven wheels, even competent tires can easily lose traction. The ID.4's traction control is inconspicuous enough that you might not realize it's activating and mistake it for a lack of power; that was my initial read when I drove a cold ID.4 on 10-degree pavement. It improved somewhat after the tires warmed up; on my second drive, in warmer temperatures and with better traction, I saw what the car really had. When two-motor AWD arrives, along with more power (roughly 300 hp) and traction, VW estimates that version will have a 0-60-mph time of less than 6 seconds.
What really matters is that the ID.4 has the immediate responsiveness we love from electrics, with much of its thrust available from a stop. Though that urgency diminishes at highway speeds, passing power is still quite good. The ID.4 has driving modes, but I didn't use them very often. For one thing, changing them requires a couple of steps that involve one of the less effective controls in the car, which I'll address later. But beyond that, the differences among these modes (Eco, Comfort, Sport and Custom) aren't that noticeable. Mostly they vary the sensitivity of the accelerator pedal and the steering boost. The wisest approach is to stick with Custom, which lets you choose how you want to set these parameters, along with the aggressiveness of the adaptive cruise control, the climate controls, the automatic high-beams and the differential lock mentioned above.
Thankfully, the ID.4's braking action is quite good — in contrast to the Mustang Mach-E, which was numb and nonlinear. It's especially impressive because VW went with drum brakes in the rear to prevent the corrosion that occurs when disc brakes go unused, as discs paired with regenerative braking often do.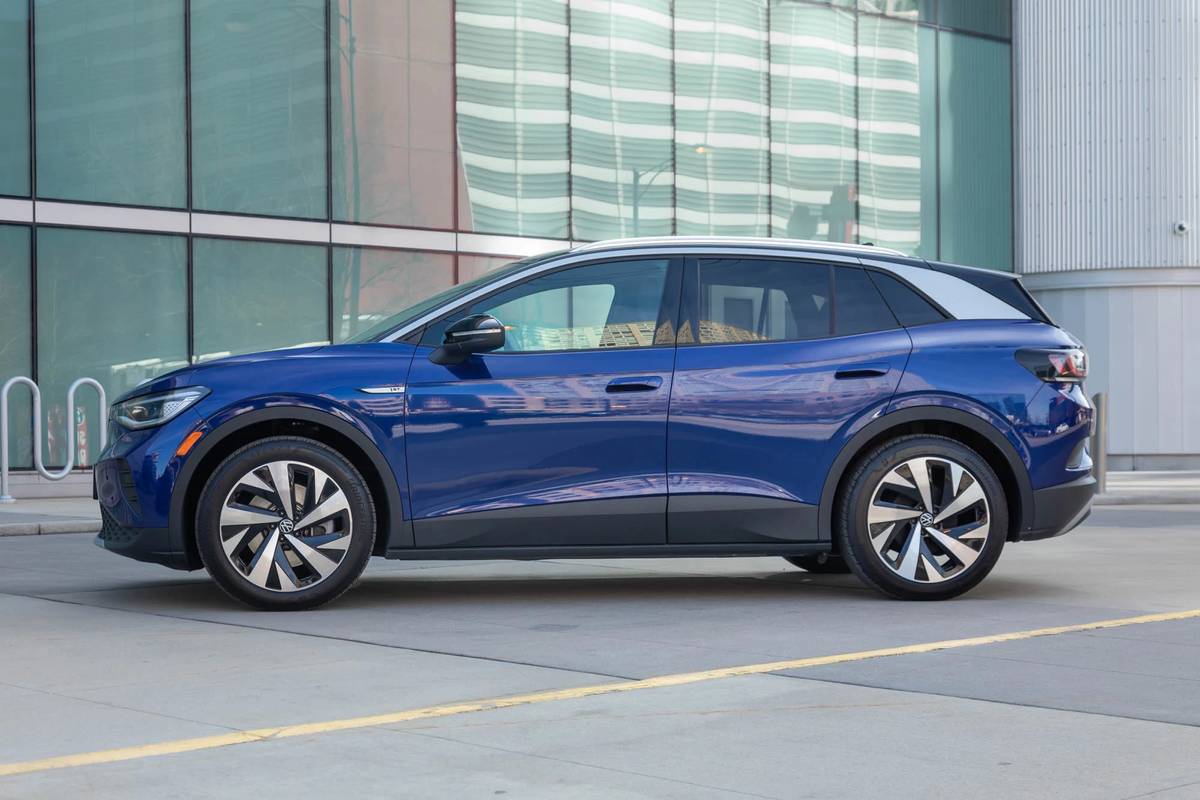 VW didn't get the regenerative braking level quite right for my tastes. Like in the Mach-E, the normal drive mode allows the car to keep going with very little deceleration — far less than a conventional car. If you want more regeneration and deceleration, the Eco drive mode provides it some of the time, and you can manually twist the "gear" selector forward to switch from D to B. This provides more deceleration than a regular car, but not enough for one-pedal driving (in which you seldom have to use the brake pedal). Many newer EVs have a one-pedal mode and even call it such. VW should give Drive a little more regen and make B a one-pedal mode. Or maybe, in a fit of madness, they could give the ID.4 three modes.
Range and Efficiency
The EPA-estimated range for the ID.4 is 260 miles for the Pro and 250 miles for the Pro S and 1st Edition. Detractors will call this a strike against the ID.4, but it's important to recognize that the number you may see advertised for competitors, including the Mustang Mach-E, is often an optional maximum, and you'll pay for it. For example, the Mach-E with the standard, smaller battery pack has an estimated 230-mile range with RWD and 211 miles with AWD — less than the ID.4. The Ford's optional larger battery is what gets you its advertised 300-mile range (and 305 in the California Route 1 version).
I don't think a 250-mile range will be a huge downside for most owners simply because EV reality is nightly home charging and far fewer miles per day than the uninitiated seem to recognize. But not having the option of more range is a downside. I do expect consumers to pay less for lower range, which they mostly do in the ID.4/Mach-E comparison: The ID.4 is priced about $2,800 less than the base Mach-E despite having 30 miles more of range, but a Mach-E with 300 miles of range (the Premium with an extended-range battery and RWD) lists for $53,100, which is $11,910 more than the base 260-mile ID.4 and $7,410 more than the more fully featured, 250-mile ID.4 Pro S. Is an additional 50 miles' worth at least seven grand? It might depend on how you feel about what else each car gives you.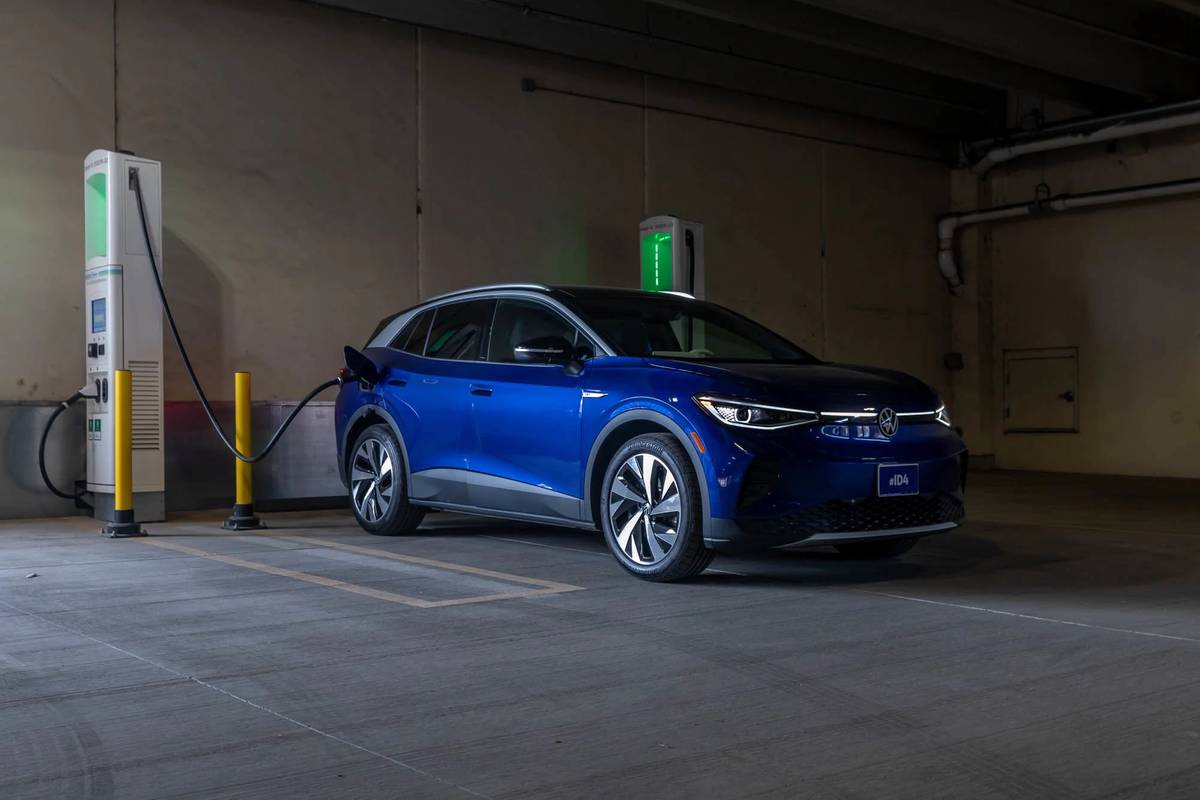 One minor disappointment about the ID.4 is its efficiency rating. I say "minor" because there are far worse examples, but it's hard to reconcile the fact that the RWD ID.4 is neither as quick nor as efficient as a comparable Mach-E. The VW's mpg-equivalent ratings are 99 and 97 mpg-e combined for the ID.4 Pro and Pro S, respectively. Rear-drive Mach-Es, meanwhile, are rated 100 mpg-e combined with the standard battery (101 mpg-e for the California Route 1) and 97 mpg-e with the extended-range battery. This seems close, but bear in mind that the Mach-E is also quicker despite its slight efficiency superiority.
An EV's efficiency plays a role in its range and how quickly it charges, as reflected in those specifications.
Out of Controls
All four Cars.com editors who drove the ID.4 objected to its controls. Not the high-mounted twist drive selector, which works pretty well and is no less controversial than the Mach-E's console-mounted rotary knob approach, but rather the preponderance of touch-sensitive panels and buttons we already railed against in our Quick Spin. These capacitive buttons are literally everywhere you'd normally find a conventional mechanical button — including the steering-wheel spokes, though at least there's a haptic feedback enhancement there, providing a bump you can feel and hear to confirm your selection registered. Even the overhead console that opens the moonroof shade is just a smooth, black plastic gutter you run your finger through.
Our problem with capacitive buttons overall is that they're inferior to traditional ones, plain and simple. Their sensitivity varies by person and even with weather conditions, because moisture plays a role in whether a capacitive surface registers your touch. A button that has to be pressed twice to work properly for one person or at any given time can likewise be too sensitive and triggered accidentally — like when reaching for an adjacent button — by another person or at a different time. I tested the ID.4 with touchscreen-compatible gloves, and the capacitive buttons responded about as well as any I've tried, but any old glove with any old reasonably sized conventional button is a better match than any pairing of capacitive button and compatible glove I've ever tried.
Automakers consistently spin their use of capacitive buttons as a positive, more futuristic or cooler or "more like a smartphone."
No.
To be perfectly clear, smartphones and other touchscreens are capacitive because they have to be. Buttons are capacitive because they're cheaper, with the possible exception of haptic-feedback-enhanced applications, such as the ID.4's steering wheel.
The jury is not out in this case. Consumers don't like capacitive buttons, and GM and Ford learned this lesson after employing capacitive technology and seeing their quality ratings plummet. They're unlikely to repeat this mistake, but Audi and Mercedes-Benz are currently in the same foolish territory — probably giving cover to lesser brands for as long as their German stubbornness holds out. (My name's Wiesenfelder; I hold the immunity idol on this one.)
The icing, or absence thereof, on the ID.4's cost-cutting cake was the presence of just two window switches on the driver's armrest. To control the rear windows, you first have to press a capacitive button next to the two switches to reassign them from front to rear. Did VW run out of switches?
There are certainly shoppers who won't mind these controls, or will get accustomed to them. But when it comes to car ownership, we've learned what does and doesn't last, and the buttons and touchscreen systems we use every time we drive can be a long-term irritant.
Touchscreen
Our test ID.4 1st Edition — essentially equivalent to the Pro S — had a 12-inch central touchscreen in lieu of the base Pro trim level's standard 10-inch touchscreen. It doesn't have quite the "wow" factor of the Mach-E's vertically oriented 15.5-inch touchscreen, but once you recognize that the bottom section of that screen always displays the ventilation controls and bears a large rotary knob, that leaves just 13.5 inches of true variable touchscreen above it.
All the same, we still preferred the Mach-E's functionality. A volume knob is always appreciated, especially when the alternative is a capacitive panel like the ID.4's. While the ID.4's menus are OK, there were several instances when there were more steps required than we thought necessary. A prime example is changing the driving mode. First you have to use the capacitive Mode button and hope that works to bring up the proper selections on the touchscreen, from which you then choose. It's much better to have one button or toggle switch that cycles through the modes — though, as stated above, it's not the biggest problem because sticking with the Custom drive mode is the best approach.
The greater issue, however, is delay. The touchscreen was slow to get started when we entered the vehicle, and it exhibited lag when we made selections. This is especially frustrating in a new car because car touchscreens, like smartphones and computers, can slow down over time. Volvo had a similar problem with its early touchscreen-centric interiors, and it didn't improve them until a few model years later when processing power was boosted. This is why I don't expect any remedy for what we experienced in a 2021 ID.4.
ID.4 Interior
The ID.4's interior is quite functional and comfortable. Unlike the Mustang Mach-E Premium we tested, whose driver's seat lacked a bottom cushion tilt adjustment, our VW had it for both of the front leatherette (imitation leather) seats, along with four-way lumbar adjustment, memory and a massage function. The base Pro trim level's cloth front seats are limited to six-way adjustment and lack all of the above.
Though simple, the digital instrument panel is a big plus. It's good just to have it, as Tesla reminded us in the Model 3 and Y, which notoriously rely exclusively on a center-of-dash touchscreen. The Mach-E has a modest display like this, too, but VW did it one better by mounting it to the steering column so it moves with the tilt wheel. If you like to position the steering wheel low, where it can block the gauges, this design is brilliant.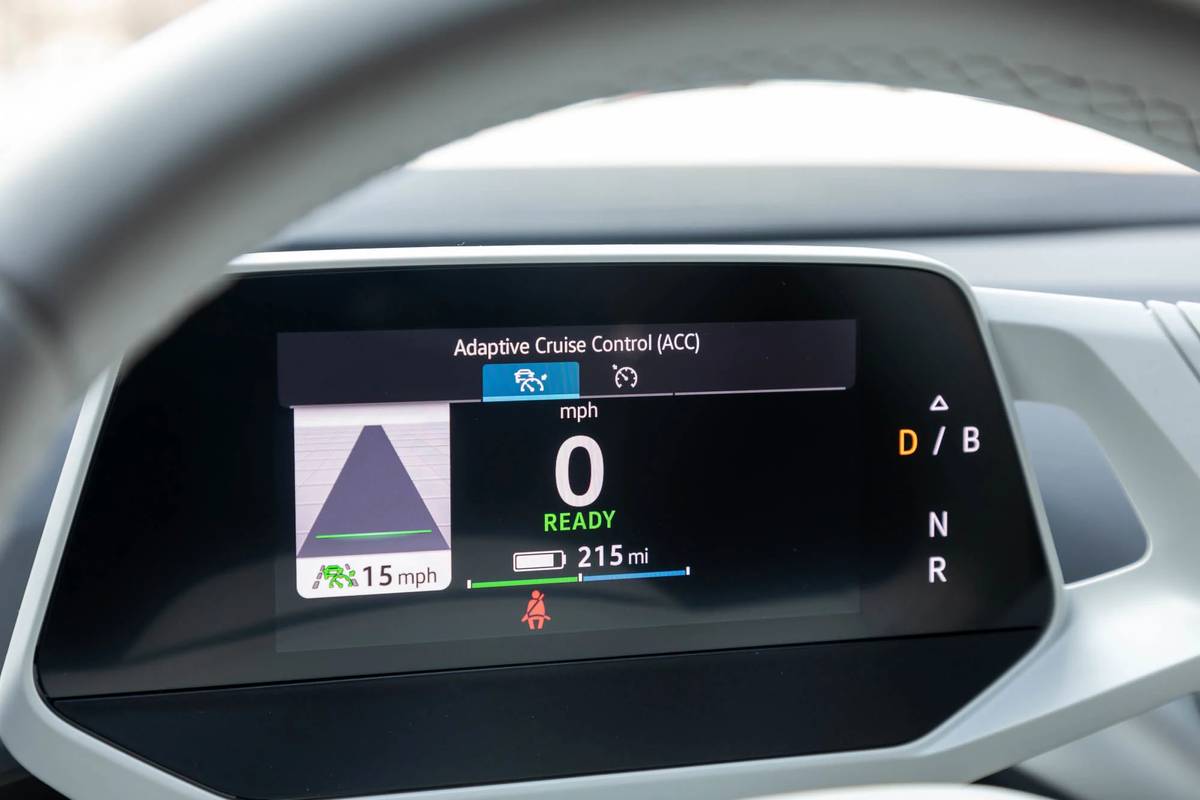 The ID.4 is an odd mix of good and bad outward visibility. It has a taller greenhouse than the Mach-E, giving it the feeling of better visibility, but the front fenders are oddly tall; I found it difficult to gauge where the car's front corners were. What's more, I found myself repeatedly parking it crooked, something I seldom do. My experience driving and parking virtually everything out there tells me that when this happens, something about the shape of the vehicle itself usually plays a part. A 360-degree camera system would help, but unfortunately one isn't offered.
By the numbers, the ID.4's taller greenhouse translates to a couple of inches' more front-seat headroom than the Mach-E provides. The advantage shrinks to two-tenths of an inch in the backseat, though, and the Ford offers more than 6 inches greater hip room back there. In practice, we were impressed with the VW's roominess, open storage areas and interchangeable cupholders in front, and the flat floor in its backseat. The panoramic moonroof on higher trim levels makes it seem even roomier.
Cargo and Towing
Given the ID.4's short length and competitive occupant space, its cargo volume is surprisingly impressive. Under the liftgate is a spacious area with a bilevel cargo floor that's simple to use. The standard folding backseat is split 60/40, and higher trims add a folding center armrest and pass-through. What you won't find in the ID.4 is a front trunk, or "frunk," as appears in several EVs thanks to underhood space not occupied by a bulky gas engine. Unless you're some kind of frunk enthusiast, I wouldn't get too hung up on it. Overall volume is what matters most, and here the ID.4 shines.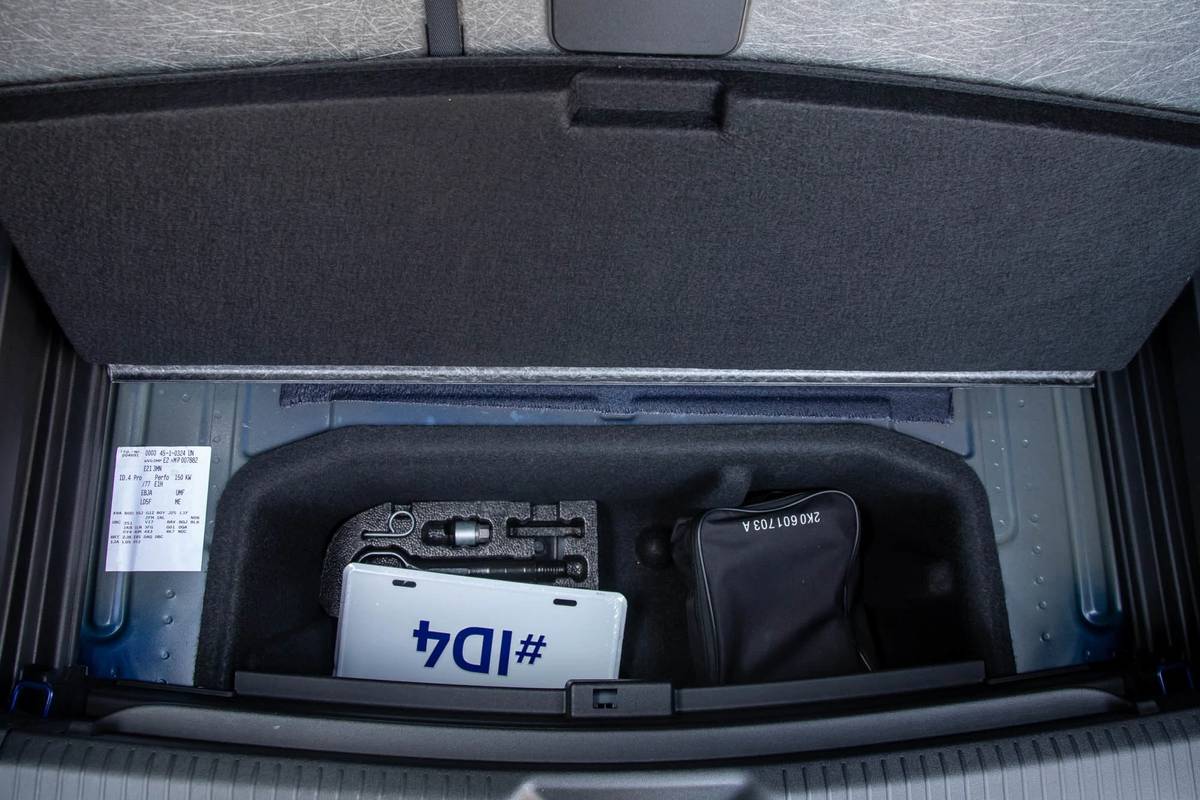 According to manufacturer-supplied cargo specifications, the ID.4 has a maximum of 64.2 cubic feet of volume and the Mustang Mach-E 59.7 cubic feet with their backseats folded. Due to inconsistencies in the ways trunks and hatchbacks are reported, along with troubling differences we've observed between brands, Cars.com developed its own cargo measurement system for the space behind vehicles' backseats. Our numbers typically render specs that are lower for hatches (measured only to the top of the rear seatbacks) and higher for trunks when compared with manufacturer data. Behind the backseats, we measured 18.9 cubic feet in the ID.4 and 15.9 cubic feet in the Mach-E. That was with the cargo floors in their lowest positions and included any additional, unoccupied underfloor storage spaces and all available space to the sides — like real people use. This excluded the Mach-E's frunk, which contributes an additional 2 cubic feet, leaving the ID.4 still leading by 1 cubic foot.
The ID.4 is rated to tow a trailer equipped with its own brakes. I'll give VW credit for this, as the Mach-E isn't rated for towing at all. The credit is qualified, though; trailer weights are modest, at 2,200 pounds with RWD and 2,700 with AWD. The Tesla Model Y is rated for 3,500 pounds. Also, everyone should be aware that your electric driving range is likely to go straight down the crapper when towing a trailer — like really, really bad. (Not just for the ID.4, mind you; that's true of any EV). But still, credit to VW for giving you the option.
The Charging Options
When charging the ID.4, there seem to be pros and cons at all three levels. I'll take you through each one.
While no one should expect to rely on 120-volt (Level 1) charging with a battery-electric vehicle (because it's just too slow), I noticed a couple of things worth sharing. First, Volkswagen's supplied 120-volt charging cord tops out at 10 amps, which is an unnecessary limitation. I had a Volvo plug-in hybrid with a similar cord that was good to 12 amps. Two amps of current might not seem like a lot, but every little bit helps: In practice, those amps nudged the ID.4's charging rate from a displayed 3 miles of range per hour (likely 3-point-something) with the VW cord to 4 miles per hour with the Volvo unit. (Charging is a standard, so any compatible charging system should work regardless of manufacturer.) Any time I encounter a wimpy Level 1 cord, the automaker claims it's the safe or convenient way to go because most 120-volt circuits are shared with other appliances and drawing so much power can trip circuit breakers. The ID.4, however, has an onscreen provision to "Reduce AC charge current" to compensate for this scenario, so it seems like its cord should be capable of 12 amps (or higher).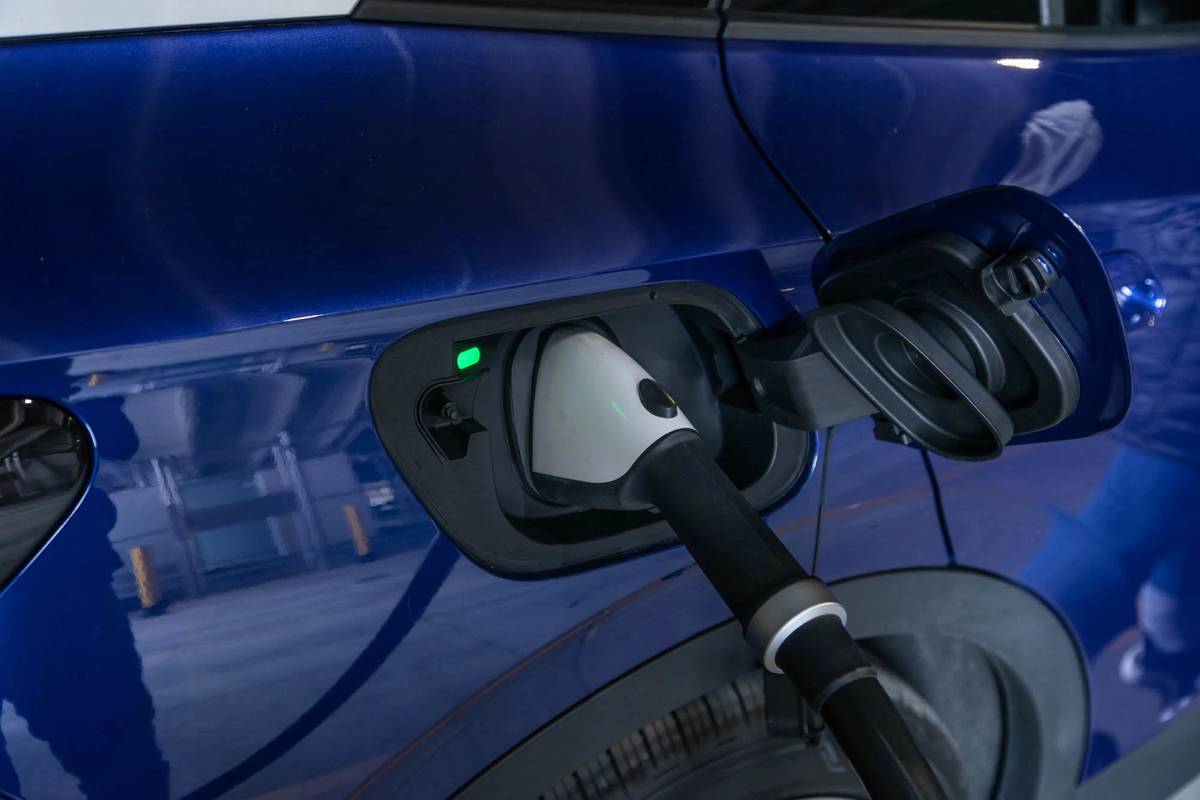 The good news is that 240-volt (Level 2) seems to be the ID.4's strongest charging asset. It's good news because this is the type that matters most when it comes to satisfying EV ownership — which is to say, charging at home overnight. It's the strongest asset because the car has a standard maximum charging rate of 11 kilowatts — quite generous by today's standards. The Mustang Mach-E tops out at 10.5 kW, and most vehicles rated above 11 kW are either larger than the ID.4 or performance variants with bigger batteries.
What this acceptance rate means, according to VW's estimate, is that you can fill a depleted battery pack in 7.5 hours if you're willing to spring for a 48-amp charging system. A more common and affordable 30-amp system would take 11.5 hours. These rates average out to 34 miles of range for every hour of charging at the highest level (48 amps, 11 kW) and 22 miles each hour at 30 amps (7.2 kW). I currently lack home charging, but I used a Level 2 public charger that provided 5.8 kW; there's no telling why a given public charger doesn't deliver 6.6 kW or more, but it's seldom the car's fault. After an hour and 40 minutes, the ID.4's instrument panel said it had added 31 miles of range. I was billed only $1.43, which comes out to 4.6 cents per mile. Not bad.
Another big plus is that public DC fast-charging (Level 3) capability is standard and, at least currently, ID.4 buyers get three years free at Electrify America stations. This amounts to huge money if you care to take advantage of it, though I maintain that home charging is the only satisfying way to own today's EVs because even "fast" charging isn't that fast. To illustrate these points and more, I did a quick-charge session at an Electrify America station that lasted 48 minutes before I stopped it. It brought the battery from 36% to 87% full and an estimated range of 97 to 216 miles. It was free, but the "pump" showed a value of 43 cents per kilowatt-hour and an end total of $16.77. That works out to 14 cents per mile, which is no bargain even compared with a premium-gas-powered car. This is why I caution shoppers not to buy an EV expecting to rely on slow, expensive (today or eventually) DC charging.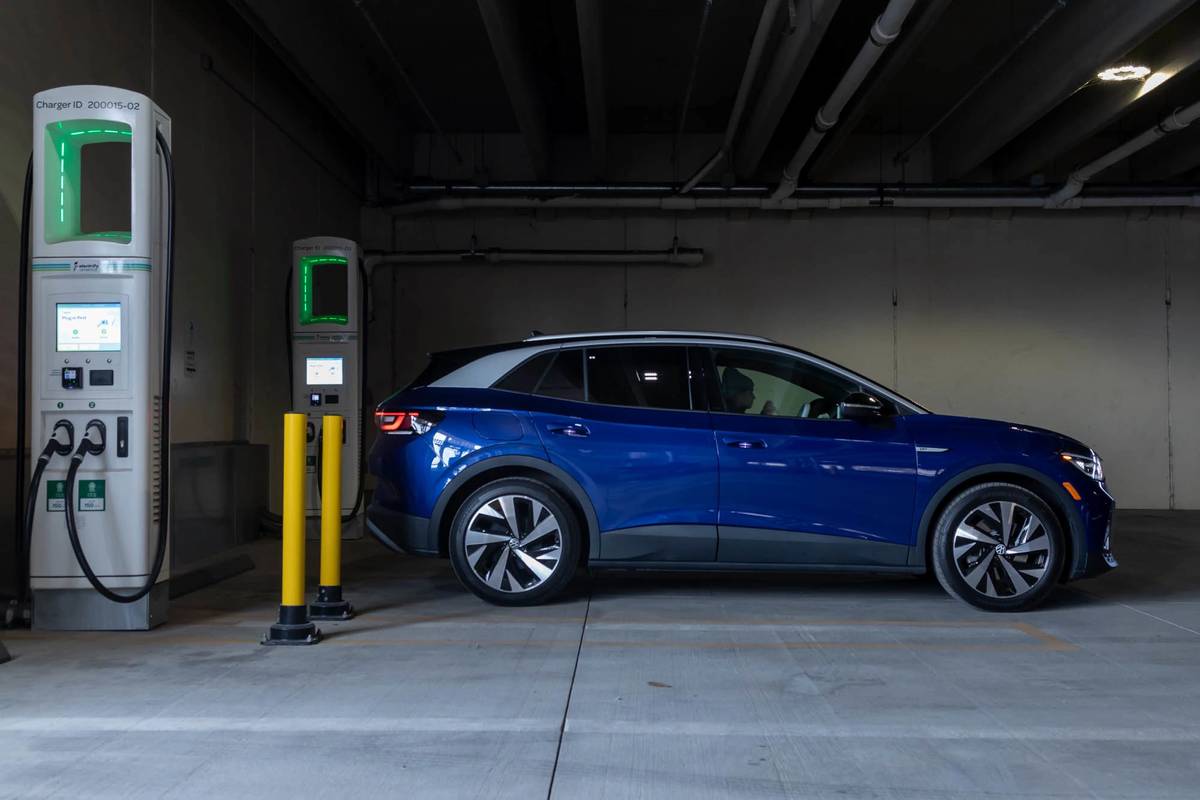 The DC fast-charging experience in the ID.4 left a lot to be desired, as it often does. For one thing, reality came nowhere near the specifications. The ID.4's DC charging limit is 125 kW, but the highest I saw was in the 50-kW range despite starting with a low state of charge in warm outside temperatures. My experience with the Mach-E was similar; its maximum is theoretically 150 kW, but it never got past 80-some kW. Eighty is better than 50, but the ID.4 beat the Ford in one regard: Where the Mach-E's charging rate dropped into the teens of kilowatts after its battery hit 80%, which is typical among EVs, the VW kept taking roughly 40 kW. By the time I quit the session at 87% state of charge, it was still taking a healthy 37 kW. At this rate, it's worth sticking around, knowing the most you'd get at home is 11 kW. I couldn't say the same for the Ford.
Strangely, though Volkswagen's investment is largely behind the Electrify America network, it's the Ford Mustang Mach-E that can automatically be recognized at an EA station and begin charging — a convenience familiar to Tesla owners. This Plug & Charge capability won't be added to the ID.4 until later this year as an over-the-air update. Anyone can still use an EA station, but think about the extra steps involved for everyone driving the car to be equipped with the app or whatever else is necessary to identify oneself as eligible for free charging….
The ID.4 Is Almost There
No electric vehicle is the complete package, which we say even of our recently announced Best Eco-Friendly Car of the Year, the 2021 Ford Mustang Mach-E. While we objected to the Mach-E's ride quality on the roads we drive, we recognize that not all roads are as bad as ours, and the Ford was otherwise a much more complete vehicle than the VW ID.4. That was true when we selected it, and it will remain such for much of the year, offering both rear- and all-wheel drive, two battery sizes with the option for longer range, and immediate Plug & Charge capability. VW promises AWD and Plug & Charge by year's end, but we can't vote on promises. There's always next year.
Apart from these delayed features, it was the touch-sensitive controls and laggy touchscreen that frustrated us, because they're probably here to stay for years — and they certainly are for anyone who buys one today. We encourage any shopper to give them a try, because there are definitely weirdos — uh, respectable consumers — who like capacitive buttons, or at least don't mind them. And there's definitely a lot to like about the ID.4, especially in contrast with its main competitor in a couple of ways.