Every year the US division of VW presents numerous tuned one-offs. They are part of the "Enthusiast Fleet" and should delight brand and tuning fans alike. After the brand started in 2021 with the Jetta GLI Blue Lagoon, it's now a Tiguan. The upgraded compact SUV is called "Tiguan SE R-Line Black RiNo Concept" and was designed by VW collector Jamie Orr. As a mountain biker, he has turned the Tiguan into a sports companion.
The Black RiNo Concept is based on the Tiguan with the R-Line package, which already comes with sportier aprons. Orr has also installed a front lip and an additional rear spoiler. The aluminum running boards come from the VW accessories and were painted black. Rotiform OZR rims in 20 inches, which are covered with 285 tires from Continental, rotate in the wheel arches. (Click here for the big AUTO BILD summer tire test 2021)
Thule bike rack with enduro bike at the rear of the Tiguan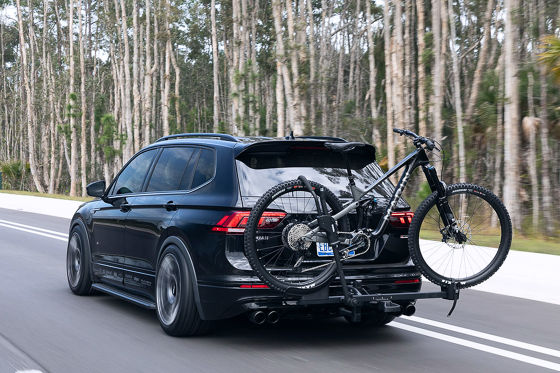 Coilovers and expensive rims: it is better not to go off-road with this Tiguan.
The adjustable solo factory coilover kit ensures a lowering that allows the rims to come into their own. The brakes have been upgraded with a Forge Motorsport system on the front axle – the system consists of larger, slotted discs and six-piston calipers. The four-pipe exhaust system is custom-made and consists of parts from Borla. There is also a Thule bike rack at the rear which, in the case of the Black RiNo, can accommodate an enduro bike from Marin Bikes. The Alpine Trail 2 comes with a carbon frame in black to match the car. (Guide: These are the best bike racks)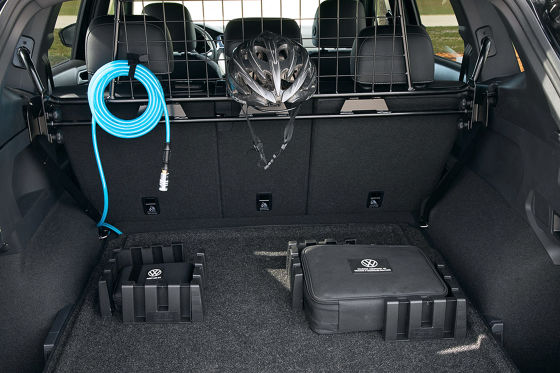 Tools, for example, can be hung on the grille. The air compressor connection is located in the wheel house.
Orr has also modified the interior. A grille is used as a trunk divider to which tools and bike equipment can be mounted. In the loading compartment there is also a compressor and hose that can be used to inflate both car and bicycle tires. An LED strip is located in the headliner so that the bike can also be screwed at night. With the exception of the shift sack and knob from Black Forest Industries, the interior is otherwise in the standard trim. Like every model in the Enthusiast Fleet, the Black RiNo Concept will remain a one-off. There are used VW Tiguan with guarantee!